DP83TD510E- Ethernet Physical Layer (PHY) Simplifies Network Management and Improves System Control and Interoperability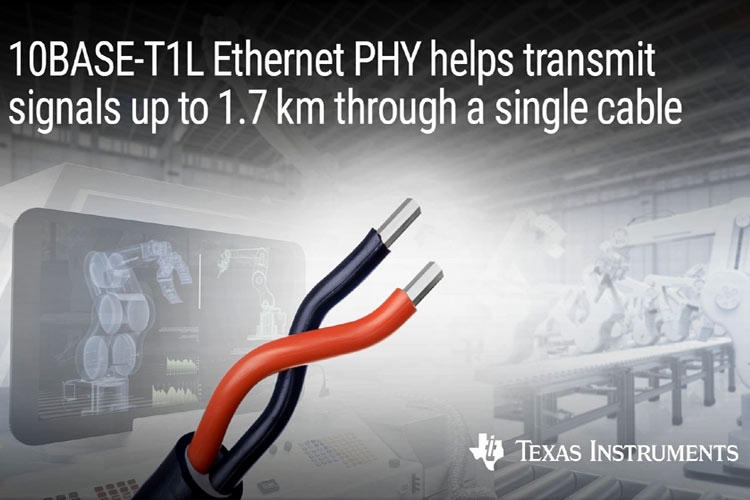 Texas Instruments has introduced the DP83TD510E, new Ethernet Physical layer (PHY) that has the ability to transmit 10-Mbps of Ethernet signals up to 1.7km through a single pair of twisted wires. The DP83TD510E allows the designers to implement a single communications network from controller to edge node for transmitting full duplex data over a single pair of twisted wires.  
With ultra-low power consumption of less than 45mW at 1 V p2p, the DP83TD510E allows the designers to simplify network management and improve system control and interoperability in long distance applications including HVAC valve and actuator control, field transmitters, elevator main controls, and fire alarm control panels. The DP83TD510W has an extended cable reach of 1.5km enabling designers to extend the reach of industrial communications without increasing system weight or cabling costs.
The DP83TD510E has been designed for use in intrinsically safe Ethernet advanced physical layer (APL) systems that can reduce Ethernet PHY power levels and temperature during system failure conditions. The new device supports external termination resistors, which helps in reducing inrush current and maintaining lower operating temperatures when it is used in long-distance process automation applications, such as field transmitters.
Features of DP83TD510E Ethernet Physical Layer (PHY)
Long cable reach:

1700 meters+ with 1-V p2p; 1700 meters+ with 2.4-V p2p

Ultra-low power:

45 mW for 1-V p2p mode; 99 mW for 2.4-V p2p mode

External MDI terminations for intrinsic safety

Single supply operations from 3.3 V

Dual supply operations for lowest power dissipation

I/O voltages:

1.8 V, 2.5 V and 3.3 V

±6-kV HBM ESD protection on MDI pins

Operating temperature range:

–40°C to 105°C
Note: More technical information can be found in the DP83TD510E Datasheet linked at the bottom of this page and on the DP83TD510E product page.