Digi-Key Electronics Secured Global Partnership with QuickLogic Corporation to Bring its Range of Low Power Semiconductors and Processors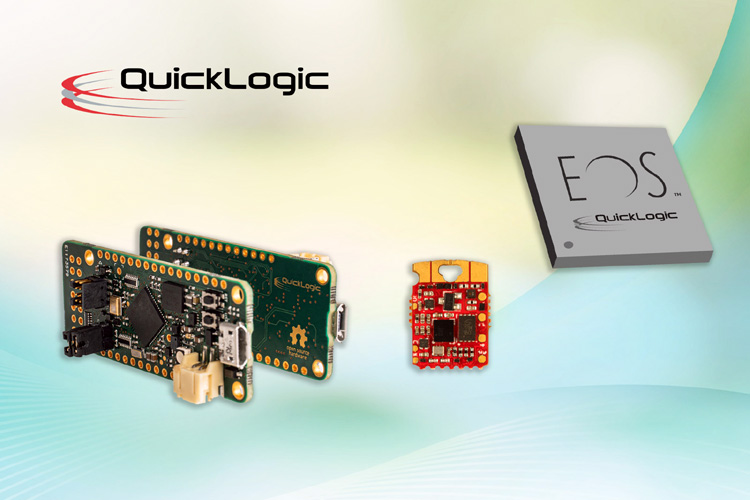 Digi-Key Electronics has secured a global partnership with QuickLogic Corporation through the Digi-Key Marketplace to offer their range of low power, multi-core MCU, FPGAs, and embedded FPGAs, voice and sensor processing. With the addition of QuickLogic products to the Digi-Key Marketplace, customers now have a complete software and hardware ultra-low-power solution, enabling them to go from idea to design within days.
QuickLogic products are supported by many popular open-source software tools such as Zephyr, FreeRTOS, SymbiFlow, and Renode. Whether a customer is adding always-on wake word detection, deploying AI inferencing models at the edge/endpoint, or wants a low-power Arm Cortex-M4F MCU based on completely open-source software, the QuickLogic EOS S3 family of SoCs has a solution.
The product portfolio includes:
EOS S3 MCU Sensor Processing Platform – With the integrated Arm Cortex-M4F MCU and embedded FPGA (eFPGA) core, customers can go from idea to prototype to mass production quickly. It is supported by an easy-to-use, low-cost dev kit and open-source software toolchains (Zephyr, FreeRTOS) as well as QuickLogic's FPGA user tools.  

EOS S3 Voice + Sensor Hub – Supports concurrent sensor processing with voice recognition. The ultra-low-power solution supports long battery life without sacrificing user experience.

EOS S3-AI – An all-inclusive low power solution and development environment to economically incorporate the benefits of AI in endpoint applications.

QuickFeather Development Kit – QuickFeather is small, Feather compatible, inexpensive, and fully supported by open-source tools. With a Cortex®-M4F MCU and integrated eFPGA, the onboard EOS S3 lets you innovate with fully open-source hardware and software.

Qomu Development Kit – Having both an extremely low power embedded processor and low power FPGA technology makes Qomu the perfect development platform, especially for edge IoT applications and artificial intelligence/machine learning capabilities. The tiny board plugs straight into USB Type-A ports, making it possible to design anywhere.
Anissa Lauer, senior product manager – Marketplace for Digi-Key said, "QuickLogic products are optimized for ultra-low power consumption, making them ideal for IoT and consumer mobile applications. In addition, the Basic Edition of the Analytics Toolkit from QuickLogic's subsidiary, SensiML, is already available at Digi-Key. As a result, our customers now have a complete software and hardware solution enabling more rapid ideation and design process."
Talking further about the partnership, Brian Faith, CEO of QuickLogic said "Digi-Key offers the world's largest selection of electronic components. Selling through Digi-Key Electronics broadens access to our products by providing engineers with an easy way to order devices, kits, and software tools. We look forward to working with Digi-Key to expand our reach."