DDP460 Industrial and LED Lighting Grade AC-DC Power Supplies to Provide Compact Form Factor and High Efficiency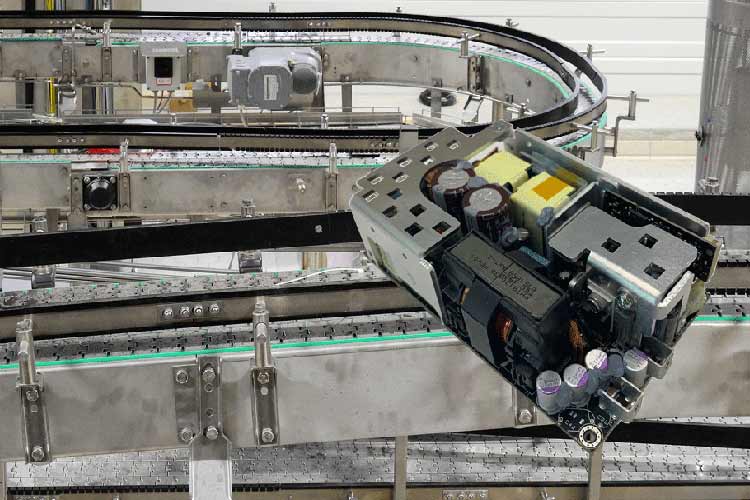 The new DDP460 series of industrial and LED lighting grade AC–DC open frame power supplies from Enedo Power provide compact form factor and high efficiency that the marketplace demands. The devices in the series are efficient (94% typical), a compact solution designed for IT/Industrial and LED lighting applications. These modules come in a 3 x 5 x 1.5" small form factor and provide 460 W of output power with forced air cooling and 340 W with free air making them suitable for tight spaces requiring good thermal management.
The devices in the series come in 24, 48, and 56 VDC standard output voltages with additional 12 and 36 VDC output voltages variants that will be made available upon business case evaluation. It offers a +5 VDC standby output capable of 1 A. The available control signals include Power Good (P_OK), Remote On / Off (-PS_On) and Remote Sense terminals (RS+, RS- ). The series can be operated over the -40 to 70 °C ambient temperature range with the output power derating factor applied above 50 °C and below -20 °C start up. 
Slow blow fuses on both AC lines, input under-voltage lockout (IUV), output over-current (OC), output short-circuit (SC), output over-voltage (OV), and over-temperature (OT) are the protection features that these devices come endowed with. These devices are compliant and certified to the latest IEC 62368-1 standard for IT and Audio/Video equipment. Its design and construction make it compatible with UL 8750, for LED lighting applications, and IEC 60335-1 / 61558-1 safety standard for household appliances. The typical application areas of these power supplies include laboratory/analysis equipment, SSL lighting, industrial control, kiosk, audio, and video equipment, low noise applications, etc.
Features of DDP460 Open Frame Power Supplies
90 – 305 VAC universal input voltage range
460W rated power; 340 W free-air cooled
High efficiency of 94.5%
24, 48 & 56 VDC standard output variants
+5V 1 A standby output
Active PFC, EN 61000-3-2 compliant Class C, >20% load
Low earth leakage current
Over Temperature, OV, OC, and SC protections
Design Compliant for UL8750 for LED Lighting
Design compliant to IEC60335-1 for household appliances
5-year warranty
Operates at up to 5000m altitude
Note: More technical information can be found in the DDP460 datasheet linked at the bottom of this page and on the DDP460 Open Frame Power Supplies product page.