CoolGaN 600V e-mode HEMT for Better Efficiency and Reliability in Telecom Power Applications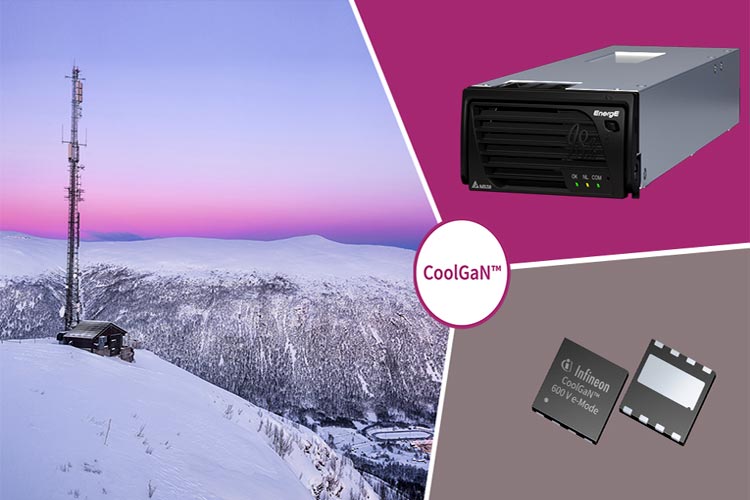 Infineon technologies have provided CoolGaN to deliver ultimate efficiency and reliability to telecom power supply systems. Available in the DFN8x8 package, the CoolGan 600V e-mode HEMT in the Delta's DPR 3000E EnergE rectifiers enables an industry-leading energy efficiency of 98%. With an industry-leading power density of 56.8 W/in³, the device provides high performance while consuming little energy.
The CoolGaN offers highly efficient GaN transistor technology for power conversion in the voltage range up to 600V. The pioneering quality ensures high standards and offers the most reliable and performing solution among all GaN HEMTs on the market. The GaN solutions provide power-saving and total system cost reduction along with higher operating frequency, improved power density as well as overall system efficiency.
The high-frequency operation above 200-250kHz provides superfast switching speed and very short dead time. The CoolGaN e-mode HEMTs are available in top- as well as bottom-side cooled SMD packages and are suitable for industrial applications such as a server, datacom, telecom, adapter/charger, wireless charging, and audio with the most robust and performing concept in the market.
Features of CoolGaN e-mode HEMT
Enhancement mode transistor – Normally OFF switch

 

Ultrafast switching

No reverse-recovery charge

Capable of reverse conduction

Low gate charge, low output charge

Superior commutation ruggedness

Qualified for standard grade applications according to JEDEC standards
Note: More technical information can be found in the IGT60R190D1S Datasheet linked at the bottom of this page and on the product page of 600V CoolGaN enhancement-mode Power Transistor.