Compact Surface Mount AC/DC Converter ICs with Integrated High Voltage SJ MOSFET for Industrial and Consumer Power Supply Solutions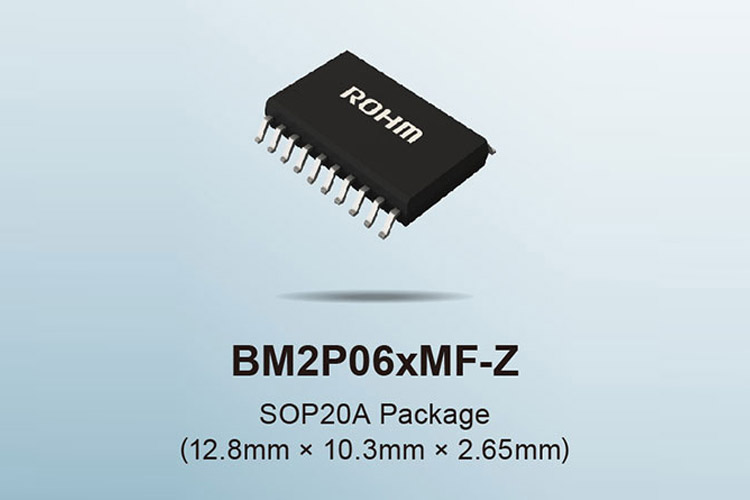 ROHM has developed the new AC/DC fly-back converter ICs with an integrated 730V breakdown MOSFET that requires no additional heatsinks and no discharge resistors and capacitors. The new BM2P06xMF-Z series (BM2P060MF-Z, BM2P061MF-Z, and BM2P063MF-Z) is ideal for auxiliary power supply and Switch Mode Power Supply (SMPS) solutions for industrial drives along with home appliances including air conditioners, white goods, and factory automation equipment.
These ICs with both startup and optimized control circuits in a compact high heat dissipation surface mount package (SOP20A) support output power up to 45W and input voltages from 85V to 264V AC. This series utilizes a control circuit that leverages ROHM's high voltage process and analog design technologies to meet the safety requirements of the IEC 62368 standard even without a discharge resistor. Moreover, these new products support operation over a wide VCC voltage range from 11V to 60V. 
In addition, the original low standby power control technology reduces IC power consumption during application standby, resulting in a system standby power consumption of just 17mW thereby, reducing standby power consumption by more than 90%.
Features
AC Low Voltage Protection Function (AC UVLO)

X Capacitor Discharge Function

VCC Pin Low Voltage Protection (VCC UVLO)

PWM Type Current Mode Control

Frequency Reduction Function

Burst Operation at Light Load

Burst Voltage Setting Function

Minimum ON Width Adjustment at Light Load

Soft Start Function

FB Pin Overload Protection Function (FB OLP)
Applications
AC Adapters

Each Household Applications

Power Supplies for Motor

Industrial equipment including inverters

AC servos, routers, and office automation devices
Availability and Pricing
The samples of these devices are now available and the mass production will begin in Jan 2022 with pricing at $2.13/unit.