AP64xxx - Synchronous Buck Converters with Integrated High-side and Low-side MOSFETs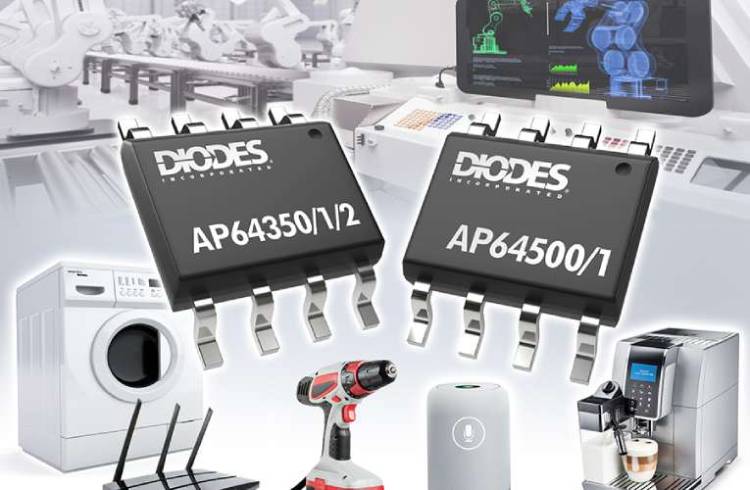 Five new 40V, 2.2MHz synchronous buck converters have been introduced by Diodes incorporated., namely AP64350, AP64351, AP64352, AP64500, and AP64501. These new converters are integrated with high and low side MOSFETs and they can provide point of load (PoL) solutions with a continuous output current of either 3.5A or 5A. All these converters operate at a supply voltage ranging between 3.8V and 40V and have a low RDS (ON) and provide a low dropout (LDO) mode. Among them, AP64350, AP64351, and 64352 operate with a quiescent current (Iq) of 22µA, whereas the other two converters AP64500 and AP64501 operate at a quotient current (Iq) of 25µA.
The converters are designed with proprietary gate driver technology that can deliver better EMI performance in the step down DC-DC conversion in Consumer, industrial, networking and automotive applications. With their optimized gate driver design and with the parts including a frequency spread spectrum topology the EMI can further be reduced. With an adjustable frequency range of 100kHz to 2.2MHz, the engineers can choose the appropriate configuration of the converter for their applications, along with the efficiency, size of the external components, or RF compatibility with other system-level functions.
Features of AP64xxx Buck Converters:
5V, 12V, and 24V Distributed Power Bus Supplies

A programmable switching frequency of 100kHz to 2.2MHz.

Operates at 22μA (AP64350, AP64351, AP64352) and 25μA (AP64500, and AP64501) low quotient current.

Operates at 85% efficiency at 5mA light load

Has a protection circuitry including under-voltage lockout, output overvoltage protection, Cycle-by-cycle peak current limit and thermal shutdown.

They all feature RDS (ON) and provide a low dropout (LDO) mode.

The device is available in a SO-8EP package
Note: More technical details on AP64350 can be found at the data brief given at the bottom of this page. You can visit the links below for details on other part numbers.
All the 5 synchronous buck converters are designed in a SO-8EP package and available for purchase from the official company website. For more details visit the product page of AP64350, AP64351, AP64352, AP64500, and AP64501 on the official website of Diodes incorporated.