AP43771 – USB Type-C Power Delivery Controller for Quick Charger Solutions with Low Standby Power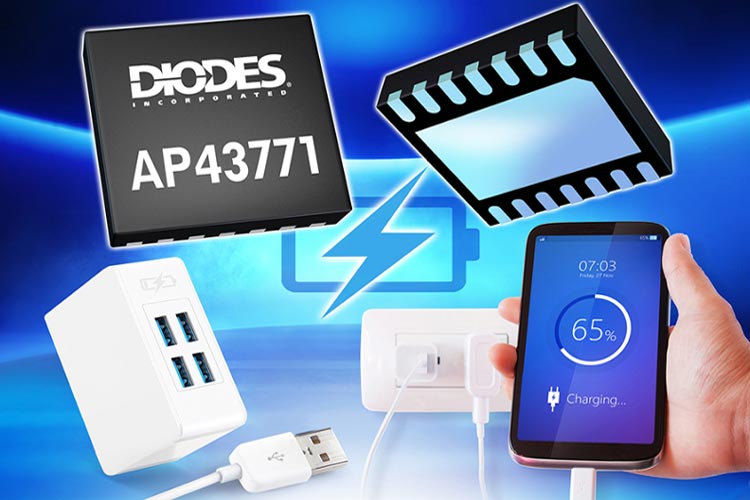 Diodes Incorporated has introduced the AP43771 USB Type-C power delivery (PD) controller IC with an embedded microcontroller and a one-time programmable memory. The new controller is Diodes's second generation of highly integrated controllers optimized for quick chargers. It integrates support for USB PD revision 3.0 V1.1, Qualcomm Quick Charge (QC) 2.0, 3.0, 4/4+ technology as well as battery charging (BC) revision 1.2.
Features of AP43771
Compatible with USB PD Rev3.0 V1.2

USB-IF PD3.0/PPS Certificated TID = 1090028

Qualcomm QC4/4+ Protocol Certificated

OTP (One-Time-Programmable) for Main Firmware

MTP (Multi-Time-Programmable ) for System Configuration

Built-In Regulator for CV and CC Control

Support SCP/OTP/OVP/UVP with Auto-Restart

Support Power Saving Mode

External N -MOSFET Control for VBUS Power Delivery

Support e-Marker Cable Detection

Operating Voltage Range: 3.3V to 20V

Fewest External Component Count
Note: Complete technical details of the controller can be found in the AP43771 Datasheet, linked at the bottom of this page
When combined with the Diodes' AP39303 PWM switcher and APR34709 Synchronous rectification (SR) switcher, the AP43771 provides 18W of output power. When combined with the AP3303 PWM controller and APR347 SR controller, it can act as a 33W charger solution.
The Programmable power supply (PPS) feature introduced with the latest version of the USB PD specification can also be supported by AP43771. The AP43771 can adjust the constant current and constant voltage (CC/CV) output driver in 50mA steps up to 6A and 20mV steps between 3V and 16V, respectively. The Controller is available in the small DFN30303-14 (3mm x 3mm) package, for more information about AP43771, visit the official website of Diodes Incorporated.