IEWS20R5135IPB – Protected IGBT with built-in driver IC for Induction Heating Applications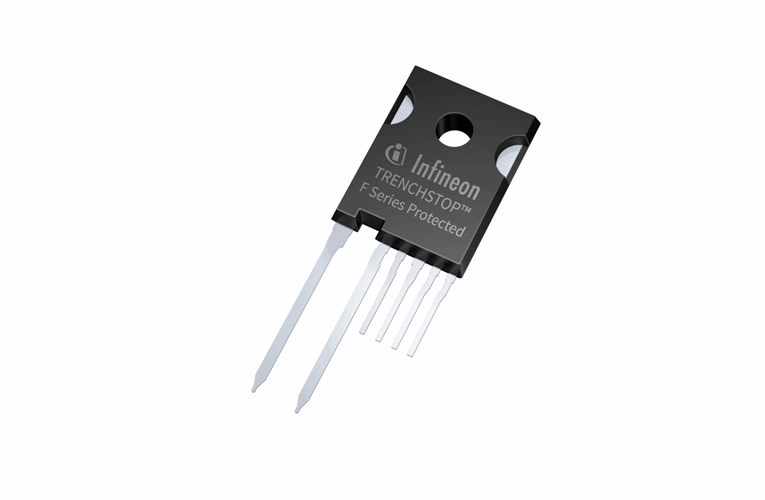 Infineon Technologies has launched the new F-Series Protected IGBTs with TRENCHSTOP feature. This new IGBT includes built-in logic functionality and a dedicated driver IC which is programmable by the user. This feature claims to improve the protection feature of the IGBT and guarantees higher reliability with less design and programming effort for induction heating applications.
The TRENCHSTOP feature of the IGBT improves the performance by considering the main parameters blocking voltage, static losses and conduction losses. Additionally, it integrates protection functions against over-voltage, over-current and over-temperature. Combining this functionality with additional diagnostic features, the device reliability becomes independent from microcontrollers (MCU). Thus, designers can integrate less advanced MCUs for reduced complexity and cost.
IEWS20R5135IPB F-Series IGBT Features:
Built-in gate driver IC with Protection features
Continuous Collector current (IC) is 20A
Collector Emitter Voltage (VCE) is 1350V (max)
Maximum collector current (IC) is 40A
Maximum Switching Frequency is 60kHz
Turn-on time: 668ns
Turn-off time: 2034ns
Package: TO-247 (6-pin)
Note: More details can be found in the datasheet linked at the bottom of this page.
Both, IGBT and driver are molded in a single TO-247 6-pin package with the same dimensions and single screw hole as a standard TO-247 3- & 4-pin package. The additional pins allow for extra features such as unique active clamp control, fault condition notification, and a special two level turn-on gate driving current. The thresholds for over-voltage and -current are programmable to suit customers' needs. The High quantities production for this IGBT has already started. Samples are now available and can be obtained from the official Infineon website.