750W i7A Series of 24V Nominal Input Non-Isolated Buck DC-DC Converters for Small Battery Powered Industrial and Medical Equipment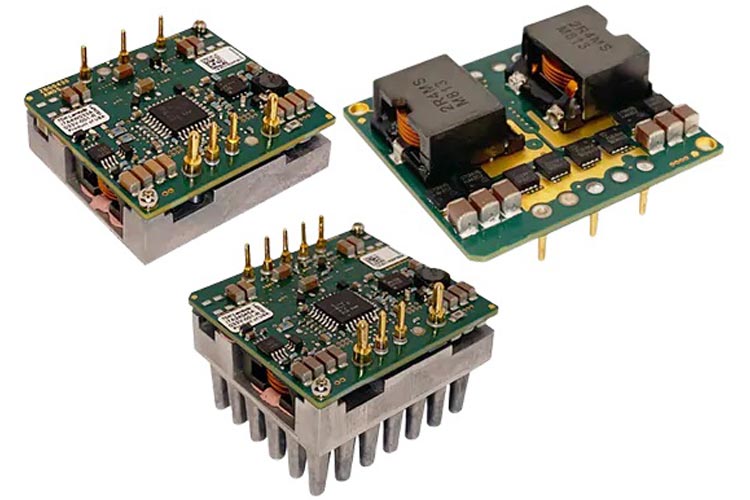 TDK Corporations has introduced the 750W rated TDK-Lambda i7A series of 24V nominal input non-isolated buck DC-DC converters. With an adjustable output voltage range from 3.3V to 18V and a maximum current of 45A, the compact converters are suitable for use in robotics, drones, medical industrial, test, measurement, and portable battery-powered equipment.
Compared to other isolated DC-DC converters, the i7A models can derive additional high power outputs from a 24Vdc power supply at a lower cost and higher efficiency. Packed in the industry-standard 1/16th brick footprint, the new device can offer efficiencies of up to 98.5% with minimized internal losses and operate at an ambient temperature of -40°C to +125°C. The i7A design can provide a low output ripple and excellent response to dynamic loads in a smaller space.
A choice of three mechanical configurations is available, measuring just 34mm wide and 36.8mm in length. The 11.5mm high open-frame model is suitable for applications requiring a low profile. The baseplate version can be conduction-cooled to a cold plate and is 12.7mm high. Models with an integral heatsink, which are for convection or forced air cooling, are 24.9mm high.
The i7A standard also features output voltage adjustment, + remote sense, remote on-off (positive or negative logic available), input under-voltage, over-current, and over-temperature protection. Evaluation boards are available.
Features of i7A series of non-isolated buck DC-DC converters
Up to 750W in a 1/16th Brick Footprint

High Efficiency - Up to 98.5%

Wide 3.3 to 18V or 3.3 to 24V Output Adjustment

18 to 32V or 18 to 60V Input Ranges

Low Component Count With Minimal External Components

Minimal Derating Requirements in Low Airflow Environments

safety certification to the IEC/UL/CSA/EN 62368-1 standard
Note: More technical information can be found in the i7A Series Datasheet linked at the bottom of this page and on the product page of the i7A series of non-isolated buck DC-DC converters.