5-10W Ultra-Compact Size AC/DC Converter Series LSxx-13Bxx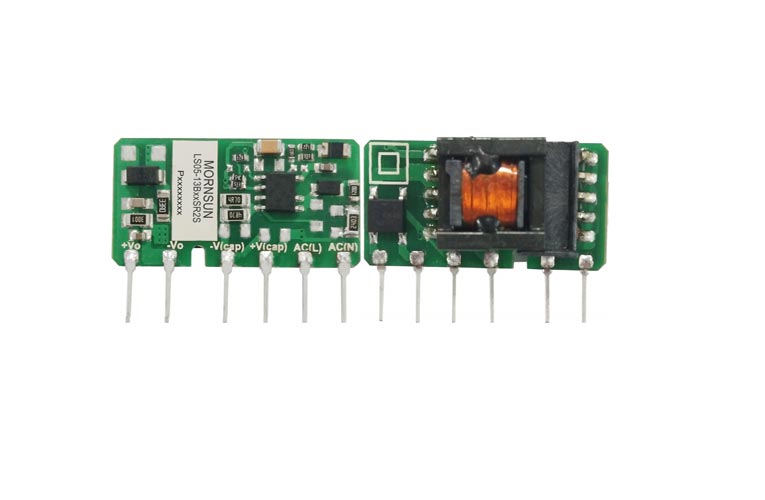 MORNSUN introduced an ultra-compact size AC/DC converter series LSxx-13Bxx which cover 5W, 8W and 10W takes the LS series to next steps. After this launch, the power range in the AC/DC converters is diversified and LS family can now provide 1W, 3W, 5W, 8W and 10W. The devices are housed in compact vertical and 90 degree bent SIP packages. Also, the new open frame LSxx-13Bxx series can now be DIY with the peripheral components to meet different application requirements that are very flexible for the PCB layout especially for applications where limited board real-estate is a factor.
The small size and multiple power options makes it an ideal solution for application areas such as industrial and commercial applications, especially for IoT, smart home and small household appliances. The devices are offer high power density along with high reliability in high temperature operations. The devices comsume less power and utilises green power meeting the IEC/EN/UL60335 safety standards.
Specifications of LSxx-13Bxx series:
Input voltage range: 85-305VAC and 100-430VDC
Input Options: AC/DC
Operating temperature range: -40℃ ~ +85℃
No. of Inputs: 1
Power Range: 3.3W – 10W
Output Voltage Range(VDC): 3.3V – 24V
Isolation(VAC): 3000
Package: SIP
The LSxx-13Bxx series comes in two dimensions where the dimension of LS05-13B-SR2S series is 35.00x18.00x11.00 mm and the dimensions of LS08-13B-SS and LS10-13B-SS series are 44.50 x 24.00 x 15.00mm.