3-Phase Gate Driver with Low-Speed Operation and Integrated FOC for Automotive Fans and Pumps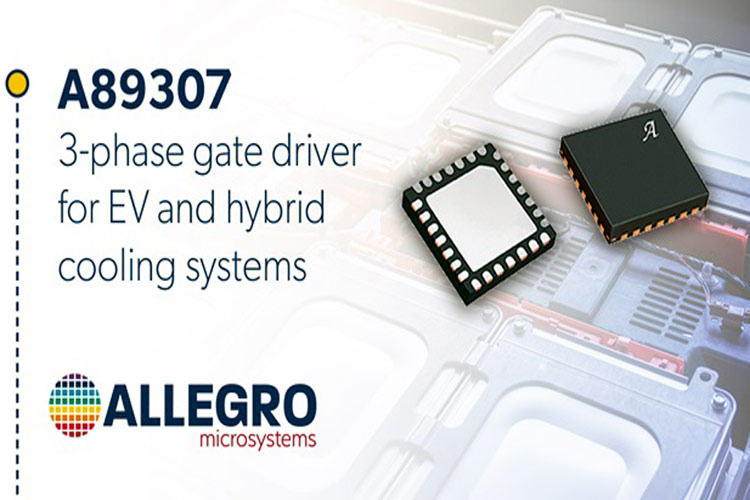 Allegro MicroSystems has introduced a new A89307 automotive-qualified gate driver integrated circuit that offers ultra-low noise and vibration by using a Field Oriented Control (FOC) algorithm to drive continuous sinusoidal current to the load. This new gate driver is designed for battery cooling fans and HVAC systems in electric (EV) and hybrid vehicles and helps automakers to reduce noise and improve battery life. Moreover, with only five external components, this device decreases material costs by reducing BOM components and facilitating very small system footprints for in-motor PCBs.
This 3-phase, sensorless, brushless DC motor driver can operate from 5.5V to 50V and features an I2C interface for speed control and status readback. Modes of operation of this device include open-loop PWM or fully programmable closed-loop speed control. This gate driver also includes Low-speed operation and windmilling start-up to Improve reliability and reduce audible noise.
Features
Code-free sensorless field-oriented control (FOC) - No software programming

Ultra-quiet low-speed operation - Reduces audible noise and vibration

Proprietary non-reverse fast startup - Improves reliability and reduces audible noise

Analog, PWM, Analog, or Clock mode speed control with programmable speed profile

Configurable current limit and lock detection - Reduces motor heating

Start-up under both forward and reverse windmilling conditions - improves reliability

Short-circuit protection (OCP) - protects supply and PCB from burning during MOSFET failure
Applications
Battery Cooling Fan

HVAC Fan

Inverter Cooling Pump
Availability
The A89307 gate driver is now available in a 28L wettable flank QFN package.