XL4015 DC-DC Step Down Module
The XL4015 power module is a DC to DC step-down (BUCK) power module that operates at a switching frequency of 180kHz. In such high frequency, it provides smaller sized filter components compared with low frequency switching regulators.
This DC-DC switching buck converter is capable of driving a 5A load with excellent line and load regulation. The main switching component is XL4015, an adjustable output version switching regulator. It is an efficient switching regulator and the output efficiency is significantly higher in comparison with the popular boost regulators. At higher input voltages, the regulator operates at a switching frequency of 180kHz, thus allowing the overall board size to be smaller and space-saving. It is a high-power switching module with a toroidal ring inductor.
Pin Description of XL4015 Power Module Board
| | |
| --- | --- |
| Pin Name | Description |
| IN+ | Positive input (Unregulated or Regulated) |
| IN- | Negative input (Ground) |
| OUT+ | Positive Output (Regulated) |
| OUT- | Negative Output (Ground) |
The pinout can be easily seen in the Board Legend.

​
Features and Specifications
Input voltage: 4 - 38V
Output voltage: 1.25 - 36V (adjustable)
Output current: Maximum output current 5A
Note: The higher the voltage, the load current increases. Try to use it within 4.5A.
Output power: It is recommended to use within 75W
Note: Heat sink required if output power exceeds 50W
Efficiency of this regulator up to 96%
Note: Efficiency is related to input, output voltage, current, and the voltage difference
Load regulation: 0.8%
Voltage regulation: 0.8%
Adjustable potentiometer onboard for output voltage adjustment.
Power LED indicator
Thermal Protection enabled.
Short circuit proportion: limited to 8A.
Dimension: 54*23*18 mm (L*W*H)
Note: Complete technical details can be found in the XL4015 Datasheet linked at the bottom of this page.
Alternative Product of

XL4015 Based Power Module Board
Alternative and compatible products for XL4015 based DC-DC step-down power module boards are listed below -
MT3608 based 2A rated DC-DC step-down module
LM2596 based 3A rated DC-DC step-down module
XL4015 Power Module Board

- Overview
The main driver is XL4015-Adj.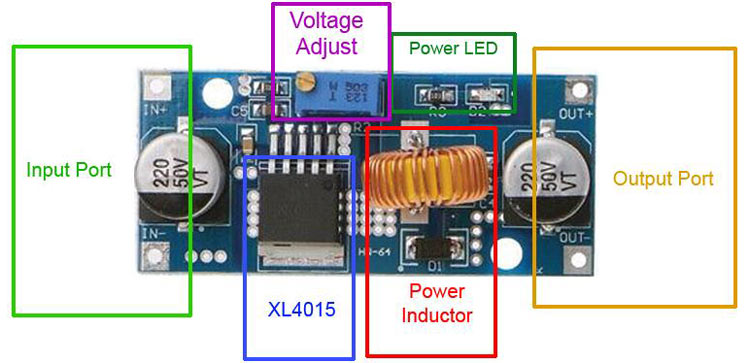 ​
The XL4015-Adj based DC-DC step-down module offers 5A (recommended 4.5A) of rated current from a 4-38V of the wide input voltage. The power module has a potentiometer to adjust the output voltage according to the user needs. Although the module uses a PCB based heat sink, it is recommended to use an additional heat sink if the output power rating exceeds 50W. The module also offers a very high conversion efficiency of less than or equal to 96% with 0.8% load regulation that can be an excellent choice for audio electronics-related products. Higher conversion efficiency enables battery-operated applications as well.
Not only this, but the module also provides current limiting features up to 8A and has internal thermal protection.
There is a power LED that will indicate the power availability status of the module.
NOTE: It does not have any reverse polarity protection.
Users can adjust the potentiometer to get the output voltage from 1.25V to 36V. However, the higher input voltage offers higher load current capabilities.
Interfacing Diagram
The interfacing of the XL4015 module is quite easy. Connect the regulated or unregulated input across the IN+ and IN- pin and use the potentiometer to adjust the output voltage. Connect the load directly at OUT+ and OUT- pins.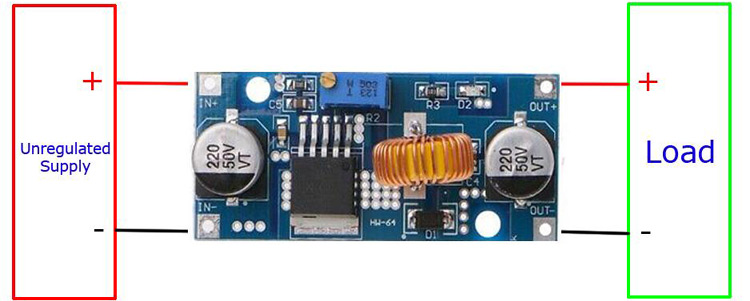 ​
Applications of XL4015 Power Module Board
DIY based power supply

To serve the power requirements of high power Audio-based circuits.

High current applications with small space
2D Model
The dimensions of the XL4015 based Power Module Board is shown below -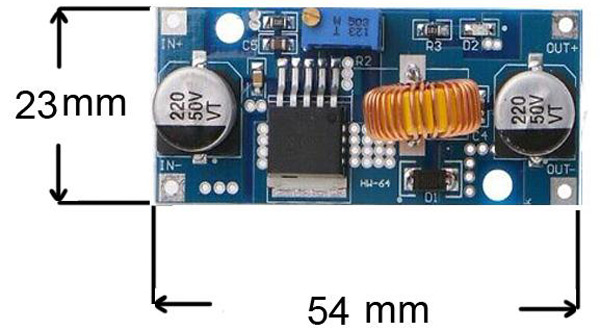 ​