TMC2209 Stepper Motor Driver Module
The TMC2209 is an ultra-silent motor driver IC for two-phase stepper motors. The driver has a maximum output capacity of 28 V and ± 2 A. It can operate bipolar stepper motors from 1 to 1/256 step modes. TMC2209 uses StealthChop2 technology for silent motor operation.
Pin Configuration
| | |
| --- | --- |
| Pin Name | Description |
| VDD & GND | Connected to 5V and GND of Controller |
| VM & GND | Used to power the motor |
| M1A, M1B, M2A, M2B | Output Pins, Connected to the 4 Wires of motor |
| DIR | Motor Direction Control pin |
| STEP | Steps Control Pin |
| MS1, MS2 | Microstep Selection Pins |
| FAULT | Fault Detection Pin |
| PDN_UART | UART and Auto Power Down Control: GND=on, VIO=off |
| CLK | Clock Input |
| SPRD | Chopper mode selection: Low=StealthChop, High=SpreadCycle |
| DIAG | Diagnostics Output (VIO=error) |
| INDEX | Index Output (one pulse per each four fullsteps) |
| EN | Enable Motor Outputs (GND=on, VIO=off) |
TMC2209 Stepper Driver Module Specification
Max. Operating Voltage: 28 V
Min. Operating Voltage: 4.75 V
Max. Current Per Phase: 2 A
Board Width 0.6", Board Height 0.8"
Note: Complete Technical Details can be found at the TMC2209 datasheet given at the end of this page.
Special Features
StealthChop2: No-noise, high-precision chopper algorithm for inaudible motion and inaudible standstill of the motor.
StallGuard4: Sensorless homing safes end switches and warns in case of motor overload.
SpreadCycle: High-precision cycle-by-cycle current control for highest dynamic movements.
CoolStep: Uses StallGuard measurement in order to adapt the motor current for best efficiency and lowest heat-up of motor and driver.
MicroPlyer: Microstep interpolator for obtaining full 256 microstep smoothness with lower resolution step inputs starting from fullstep.
Alternatives for TMC2209
TMC2208
Other Stepper Motor Driver ICs: A4988, A498, L6474, L6207, L6208, TMC2208, TMC2209
How to Use TMC2209 Driver Module
Interfacing diagram for TMC2209 is shown below. Pinout and working of TMC2209 is same as A4988 and DRV8825 but it uses StealthChop2 technology and other special features to operate the motor silently and effectively.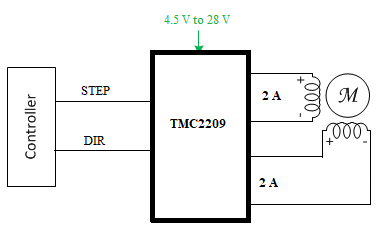 As shown in above diagram, DIR, STEP pins of module is connected with Microcontroller. STEP pin used to control the steps while DIR pin is used to control direction. TMC2209 has StealthChop2 technology that ensures the noiseless operation, maximum efficiency and best motor torque. TMC2209 has 9 step resolution from 1to 1/256 steps. You can change the step resolution using the microstep pins (MS1 & MS2). By setting appropriate logic levels to these pins we can set the motors to one of the nine step resolutions. TMC2209 uses MicroPlayer technology for obtaining full 256 microstep with lower resolution step inputs starting from fullstep. It is commonly used in controlling the NEMA series stepper motors like NEMA17, NEMA23, NEMA34
Applications
Automatic Teller Machines
Money Handling Machines
Video Security Cameras
Printers
Scanners
Office Automation Machines
Gaming Machines
Factory Automation
Robotics
TMC2209 IC 2D-Model