PAM8610 Audio Stereo Amplifier Module
The PAM8610 amplifier module is a 2×15W, two-channels, stereo based Class - D type Amplifier module. It can be used in any DIY or audio-related projects for cost and board space-saving purposes.
This amplifier module uses a PAM8610 driver with DC Volume Control which offers low THD+N (0.1%), low EMI, and good PSRP that is very useful for high-quality sound reproduction. The 32 steps DC volume control has a +32dB to -75dB range. The PAM8610 runs on a 7V to 15V supply. It is more efficient in terms of power than the other competitors ' ICs.
Pin Description of PAM8610 Amplifier Board
| | |
| --- | --- |
| Pin Name | Description |
| R_IN | Right Channel Input |
| GND | Ground Channel Input (Common ground of both Right and Left Channel) |
| L_IN | Left Channel Input |
| L- | Left Channel Output (GND) |
| L+ | Left Channel Output (+) |
| +12V | Power input (+) [7-15V input, 12V Recommended] |
| SW1 | Mute Switch Connection |
| SW2 | Mute Switch Connection |
| R+ | Right Channel Output (+) |
| R- | Right Channel Output (GND) |
Features of

PAM8610 Amplifier Board
Input Voltage: 7~15V (12V Recommended)

Power: 15W

Working Mode: Class - D (PWM modulation type).

Inbuilt mute switch port. SW short will turn off the power amplifier.

(L×W×H):

30.5×25.5×2.6 mm
Note: Complete technical details can be found in the PAM8610 Datasheet linked at the bottom of this page.
Alternative for TDA8932 Amplifier: TPA3118 (Mono 60W), TDA8932
Replacement of this PAM8610 Board: TDA7279 (15W +15W)
PAM8403 Amplifier Board

- Overview
The main power Amplifier IC is PAM8610. The important ports on the amplifier board are shown below.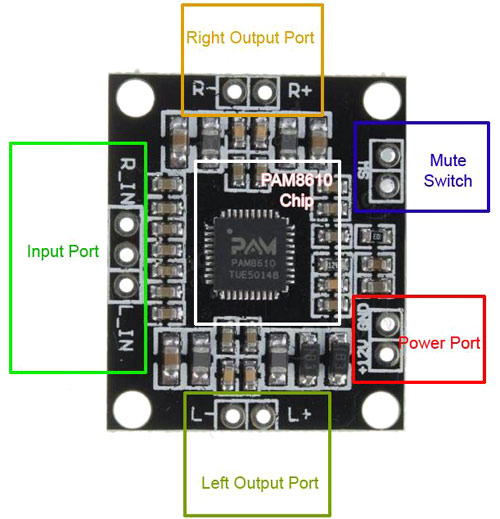 This amplifier module uses a QFN 6x6 mm package based 40 pins PAM8610 digital stereo amplifier IC. As this amplifier is a stereo amplifier, it has a stereo input and stereo output pin port where the output speaker can directly be soldered. The maximum output power is 15W per channel.
It also has an additional feature of mute switch functionality, which is very usable. The mute switch can be used to mute the power amplifier output when the switch is pressed or the mute port is shorted.
Low THD + N(0.1%) makes it a very low noise power amplifier that can be easily fitted in any musical amplifier related projects. It does not require a heatsink, which also saves additional board space. Irrespective of the heatsink, it could also provide thermal protection which is another essential feature for such a small wattage amplifier module.
Interfacing Diagram
The interfacing of PAM8610 is quite easy. Follow the below image to connect speakers, power supply, stereo input, and mute switch. Use 12V 3A of power supply with 4 to 8-inch speakers for maximum output performance.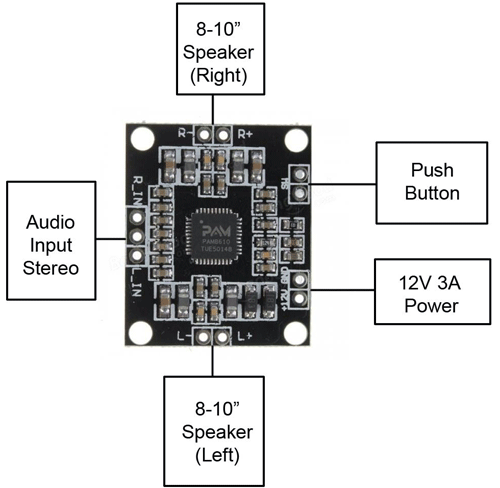 Few things to be remembered during interfacing this module with power supply, input, and speakers -
Do not exceed the power input more than 16.5V

Do not short circuit the audio output to each other or short it to the ground.

Carefully check all connections before powering up the circuitry.
Applications of PAM8610 Amplifier Board
Speaker output in LCD Monitors / TV Projectors

Speaker output amplifier in Notebook Computers

Can be used for Portable Speakers, Portable DVD Players, Game Machines
2D Model
The dimensions of the PAM8610 Amplifier Board is shown below-