JQ6500 MP3 Player Module
JQ6500 MP3 Voice sound module can play stereo MP3 files or standard mono audio files. The module has two different modes to operate in; serial communication mode (connecting to a microcontroller) or AD button control mode (module can be controlled with switches).
Features and Specifications of JQ6500 MP3 Player Module
This section mentions some of the features and specifications of the JQ6500 MP3 player
Operating voltage: 3.5-5V DC

Current rating: 20mA

Speaker power: 8ohm/3W

Supported sampling rate (kHz): 8/11.025/12/16/22.05/24/32/44.1/48

24-bit DAC output

Supports FAT16, FAT32 file system, TF card(maximum capacity 32G), USB 32G, NOR FLASH(64M bytes)

30 level volume adjust

10 EQ adjustable

Two modes: Serial mode and AD button control mode
Alternatives for JQ6500 MP3 Player Module
VS1053, WT588D-16P, MP3-TF-16P, SparkFun MP3 Player Shield, Lilypad
Note: Complete technical information can be found in the JQ6500 Datasheet linked at the bottom of this page.
Pin Configuration of JQ6500 MP3 Player Module
The JQ6500 Voice sound module has 16 pins and the table below explains the pin and their functions.
| | |
| --- | --- |
| Pin Type | Pin Description |
| K1 | Playback of Audio 1 |
| K2 | Playback of Audio 2 |
| K3 | Playback of Audio 3 |
| K4 | Playback of Audio 4 |
| K5 | Playback of Audio 5 |
| SGND | Ground |
| ADKEY | AD port |
| BUSY | Play Indicator |
| RX | UART serial Data input |
| TX | UART serial data output |
| GND | Ground |
| VCC | 5V power supply |
| ADC_R | Headphones/Amplifier(Right Channel) |
| ADC_L | Headphones/Amplifier(Left Channel) |
| SPK- | Speaker - |
| SPK+ | Speaker + |
The JQ6500 MP3 player comes in two versions; JQ6500-16P and JQ6500-28P. The JQ6500-28P version comes with an SD card slot to add up to the memory of the module.
Connecting JQ6500 MP3 Player Module to an MCU/MPU
There are two modes by which the JQ6500 module can be controlled. Using buttons or through a microcontroller. Connecting the JQ6500 module is pretty easy. K pins(K1, K2, K3, K4, K5) are pins for the ground trigger to play the defined audio for that port. The JQ6500 module can communicate to an MCU/MPU via UART communication. The RX TX pins on the module are to be connected to the TX and RX pins of the MCU/MPU, respectively. The speaker is connected to the SPK - and SPK + pins on the board.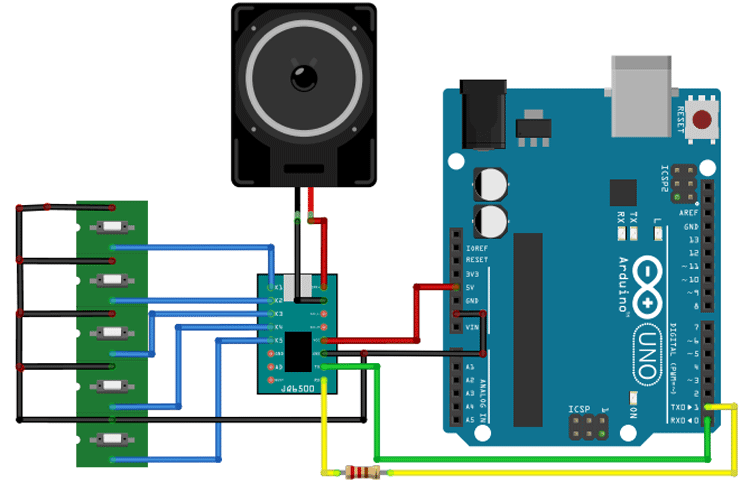 Libraries and softwares to be installed: JQ6500 Serial, Music update tool software can be downloaded and used to update the soundtracks by connecting a mini USB to the computer.
Application of JQ6500 MP3 Player Module
Here are some of the applications of the JQ6500 MP3 player:
Voice prompts

Fire alarms

Vehicle navigation audio

Voice alarms

Railway station voice prompts
2D Model of JQ6500 MP3 Player Module