INMP441 MEMS High Precision Omnidirectional Microphone Module
The INMP441 mems sensor is a high-performance, low-power digital I2S output omnidirectional MEMS microphone. Built on a compact footprint, this module is specifically designed for advanced audio and voice recognition applications. With its inherent low-noise and high Signal-to-Noise Ratio (SNR) attributes, it offers crystal-clear audio capture even in challenging environments. Its compatibility with the I2S interface, a standard used for transmitting digital audio between devices, ensures that it can be integrated into a diverse range of audio processing setups. The INMP441 microphone module is an invaluable component for developers looking to incorporate superior audio input capabilities into their projects.
INMP441 Pinout
The INMP441 microphone modules have six pins, three on each side as shown in the above pinout image. The inmp441 pins on the module are spaced in such a way that it can be easily mounted on a breadboard. The pin definition for INMP441 microphone module is shown below.
PIN

FUNCTION

SCK

Serial-Data Clock for I²S Interface

SD

Serial-Data Output for I²S Interface. This pin tri-states when not actively driving the
appropriate output channel.

WS

Serial Data-Word Select for I²S Interface

L/R

Left/Right Channel Select. When set low, the microphone outputs its signal in the left channel
of the I²S frame. When set high, the microphone outputs its signal in the right channel.

VDD

Power, 1.8 V to 3.3 V

GND

Ground.
Features of INMP441Microphone Module
Digital I²S Interface with High-Precision 24-Bit Data
High SNR of 61 dBA
High Sensitivity of -26 dBFS
Flat Frequency Response from 60 Hz to 15 kHz
Low Current Consumption of 1.4 mA
High PSR of -75 dBFS
Small 4.72 × 3.76 × 1 mm Surface-Mount Package
Compatible with Sn/Pb and Pb-Free Solder Processes
RoHS/WEEE Compliant
Other Popular MEMS Microphones
ICS-43434, SPH0645, MSM261S4030H0
Note: Complete technical details can be found in the INMP441 microphone datasheet at this page's end.
Functional Block Diagram of INMP441 MEMS Microphone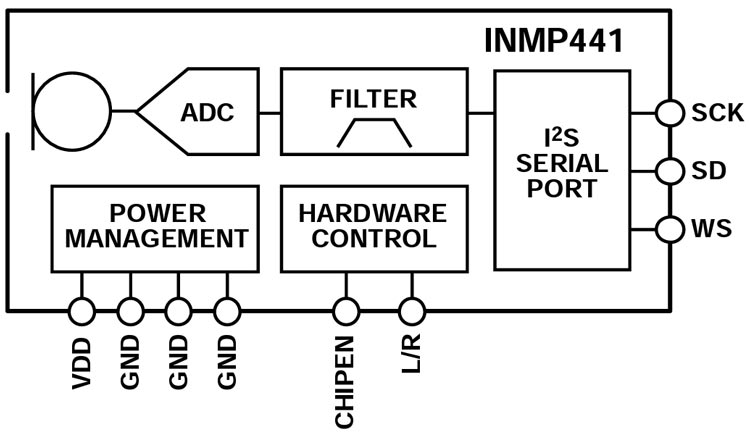 The above image shows the functional block diagram of an INMP441 MEMS microphone. The INMP441 sensor contains a MEMS sensor, signal conditioning, an ADC, anti-aliasing filters, power management, and an industry-standard 24-bit I2S interface all in a small and compact package.
INMP441 Module Schematic Diagram
The image below shows the schematic diagram of INMP441 module. Schematics itself is pretty simple. Only a filter capacitor and two pull down resistors are used.

APPLICATIONS
Teleconferencing Systems
Remote Controls
Gaming Consoles
Mobile Devices
Laptops
Tablets
Security Systems
2D-Model and Dimensions
Below is the 2D CAD drawing of INMP441 module along with its dimensions in millimeters. The dimensions can be used to create custom footprints of the module and be used for PCB or CAD modeling.