SN74121N Monostable Multivibrator
SN74121N IC is a Monostable multivibrator with Schmitt-trigger inputs. Monostable multivibrators are also known as one-shot multivibrator. The SN74121N have a feature for dual negative/positive transition-triggered inputs. It has programmable output pulse width from 40 nano seconds to 28 seconds.
Features and Specifications
This section mentions some of the important features and specifications of the multivibrator IC.
Supply voltage: 4.25-5.25V DC

Input Type: Bipolar, Output Type: Push-pull

Low level Output Current (Max): 16mA

High level Output Current (Max): 0.8mA

Operating Temperature Range: 0°C to +70°C

Programmable Output Pulse Width: Rint - 35 ns, Rext/Cext - 40 ns to 28 Sec

Output pulse timings: 40 nanoseconds to 28 seconds

Jitter-Free Operation up to 90% Duty Cycle
Note: More technical information can be found in the SN74121N Datasheet, linked at the bottom of this page.
Pin configuration
The Monostable multivibrator IC consists of 14 pins in total, the table below can be referred to understand the pin configuration of the IC.
| | | |
| --- | --- | --- |
| Pin Number | Pin Type | Pin Description |
| 1 | Q' | Inverse of the output |
| 2 | NC | Not Connected |
| 3 | A1 | Negative Edge Trigger pin 1 |
| 4 | A2 | Negative Edge Trigger pin 2 |
| 5 | B | Positive Edge Trigger |
| 6 | Q | Output |
| 7 | GND | Ground |
| 8 | NC | Not Connected |
| 9 | Rint | Internal Resistor |
| 10 | Cext | External Capacitor |
| 11 | Rint/Cext | External Resistor/Capacitor |
| 12 | NC | Not Connected |
| 13 | NC | Not Connected |
| 14 | VCC | Positive supply voltage |
Working of the Monostable Multivibrator
Monostable multivibrator, mono means single and monostable means that it is a single state stable multivibrator. This type of multivibrator changes a state depending upon the trigger input.

The output always stays in a stable state which could be either LOW or HIGH, but by applying a trigger signal, the state changes. The time required for a signal to come back to its stable state can be varied by changing the resistance and capacitance values.
Logic Diagram
The image shows the internal schematic of the monostable multivibrator IC.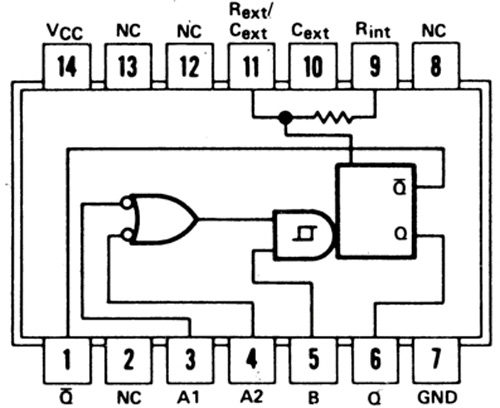 There are three trigger inputs to the device, two of which are for negative edge triggering and one which is for positive edge triggering. The output pulse width can be determined by varying or choosing the value of internal resistor(Rint) or external resistors(Rext,Cext). By doing this we can vary the pulse width from 40 nano seconds to 28 seconds.
Note: If no external timing components are used, for example Rint connected to VCC and Rext and Cext pin left open; an output pulse of typically 30 or 35 nanoseconds is achieved.
Alternatives
CD4047, 74123, 74HC221
Available packages
SOIC, PDIP, SO
Applications
Here are some of the applications of the monostable multivibrator.
Timing circuits

Delay applications

Frequency multiplication/division
2D Model
Below is the 2D model of the monostable multivibrator IC along with its dimensions in millimeters and inches. The following information can be used to create custom footprints and be used while PCB designing and CAD modelling.