MAX98357 Low Cost PCM 3W Class D Amplifier
The MAX98357A/MAX98357B is an easy-to-use, low-cost, digital Class D amplifier designed for PCM (Pulse Coded Modulation) input, offering industry-leading Class AB audio performance with Class D efficiency. With its versatile digital audio interface, it automatically recognizes up to 35 different PCM and TDM clocking schemes, eliminating the need for I2C programming. The amplifier simplifies operation by removing the requirement for an external MCLK signal used in PCM communication, reducing EMI and potential board coupling issues. Both the MAX98357A and MAX98357B support 8-channel time division multiplexed (TDM) data, with the MAX98357A supporting I2S data and the MAX98357B supporting left-justified data. The digital audio interface accepts specified sample rates between 8kHz and 96kHz for all supported data formats. These ICs can be configured to output left channel, right channel, or a combined (left/2 + right/2) output from the stereo input data. Operating with 16/24/32-bit data in I2S and left-justified modes, as well as 16-bit or 32-bit data in TDM mode, they deliver flexibility in audio processing.
The MAX98357A/MAX98357B amplifiers are available in 9-pin WLP (1.345mm x 1.435mm x 0.64mm) and 16-pin TQFN (3mm x 3mm x 0.75mm) packages. Overall, these amplifiers provide cost-effective, high-quality audio solutions with efficient performance, simplified operation, and a wide range of supported data formats.
MAX98357 Pinout Configuration
Pin

NAME

FUNCTION

4

SD_MODE

Shutdown and Channel Select. Pull SD_MODE low to place the device in shutdown. In I2S
or LJ mode, SD_MODE selects the data channel (Table 5). In TDM mode, SD_MODE and
GAIN_SLOT are both used for channel selection (Table 7).

7, 8

V DD

Power-Supply Input

9

OUTP

Positive Speaker Amplifier Output

1

DIN

Digital Input Signal

2

GAIN_
SLOT

Gain and Channel Selection. In I2S and LJ mode determines amplifier output gain (Table 8)
In TDM mode, used for channel selection with SD_MODE (Table 7). In TDM mode, gain is
fixed at 12dB.

10

OUTN

Negative Speaker Amplifier Output

16

BCLK

Bit Clock Input

3, 11, 15

GND

Ground

14

LRCLK

Frame Clock. Left/right clock for I2S and LJ mode. Sync clock for TDM mode.

5, 6,
12, 13

N.C.

No Connection

—

EP

Exposed Pad. The exposed pad is not internally connected. Connect the exposed page to a
solid ground plane for thermal dissipation.
Features
Single-Supply Operation (2.5V to 5.5V)
3.2W Output Power into 4Ω at 5V
2.4mA Quiescent Current
92% Efficiency (RL = 8Ω, POUT = 1W)
22.8µVRMS Output Noise (AV = 15dB)
Low 0.013% THD+N at 1kHz
No MCLK Required
Sample Rates of 8kHz to 96kHz
Supports Left, Right, or (Left/2 + Right/2) Output
Sophisticated Edge Rate Control Enables Filter less Class D Outputs
77dB PSRR at 1kHz
Low RF Susceptibility Rejects TDMA Noise from GSM Radios
Extensive Click-and-Pop Reduction Circuitry
Robust Short-Circuit and Thermal Protection
Other Popular PCM Amplifier Chips
MAX98355, MAX98360, MAX98361
Note: Complete technical details can be found in the MAX98357 datasheet at this page's end.
Block Diagram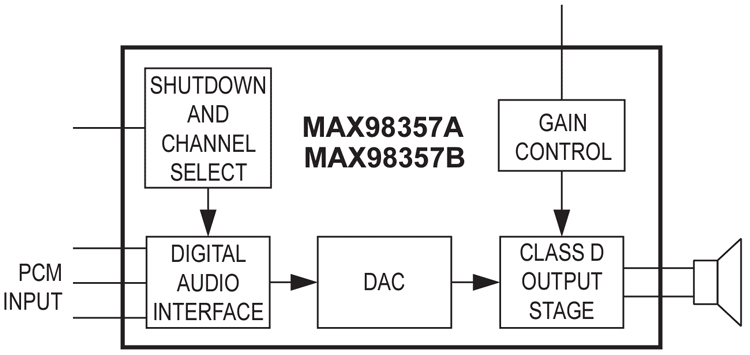 Application Circuit
The following image shows the typical application circuit for the MAX98357.
The MAX98357 requires only bare minimum auxiliary components. Two bypass capacitors and a resistor for channel selection. When the SD_Mode pin is connected directly to GPIO and it's in high state, the MAX98357 will respond to left channel, while if there is a 69.8KOhms resistor in between the MAX98357 will respond to the right channel. If the SD_Mode pin is pulled low the MAX98357 will be in shutdown state. Using SD_Mode and Gain_Slot pin combinations we can select which channel the MAX98357 will respond to. Please refer to the table below for the possible combinations.

Applications
Cameras
Gaming Devices (Audio and Haptics)
IoT Devices
Notebook Computers
Single Li-ion Cell/5V Devices
Smart Speakers
Smartphones
Tablets
2D-Model and Dimensions
Below is the 2D CAD drawing of MAX98357 TQFN along with its dimensions in millimetres. The dimensions can be used to create custom footprints of the module and be used for PCB or CAD modeling.