MAX809 – Voltage Supervisor, Microprocessor Reset Chip
MAX809 is a cost-effective system supervisor IC in a tiny SOT23-3/SC70-3 package. It is designed to monitor the supply voltage of a host processor and provide a reset signal when necessary. This will ensure that the microprocessor is initialised correctly, and no low voltage glitch occurs. MAX809 provides the best value for money by eliminating external components. The MAX809 will activate the reset output within 10us once VCC reached the reset voltage threshold and will keep the microprocessor in the reset state for at least 140ms ensuring that the microprocessor is reset correctly. The MAX809 are optimized to reject any transient glitches in the VCC line. The MAX809 has a push-pull output stage while its counterpart MAX803 has an open-drain output.
MAX809 Pinout Configuration
| | | |
| --- | --- | --- |
| PIN | NAME | FUNCTION |
| 1 | GND | Ground |
| 2 | RESET | RESET Output |
| 3 | VCC | Supply Voltage |
Features
Precision Monitoring of Power-Supply Voltages
Fully Specified Over Temperature
Push-Pull Active-Low RESET Output
Push-Pull RESET Output (MAX810)
140ms min Power-On Reset Pulse Width
12µA Supply Current
Guaranteed Reset Valid to VCC= +1V
Power Supply Transient Immunity
No External Components
3-Pin SC70 and SOT23 Packages
AEC-Q100 Qualified. Refer to Ordering Information for Specific /V Versions
Note: The Complete Technical Details can be found on the MAX809 datasheet given at the end of this page.
Equivalent for MAX809: MAX803,
Alternative for MAX809: MAX810, LM809, ZXCM809, NCV809
How to Use the MAX809?
Integrating MAX809 into your design is simple. The connections are straightforward. Connect the VCC pin to the VCC line of the microprocessor, GND to the GND and the RESET out to the RESET pin of the microprocessor. The application circuit for MAX809 is given below.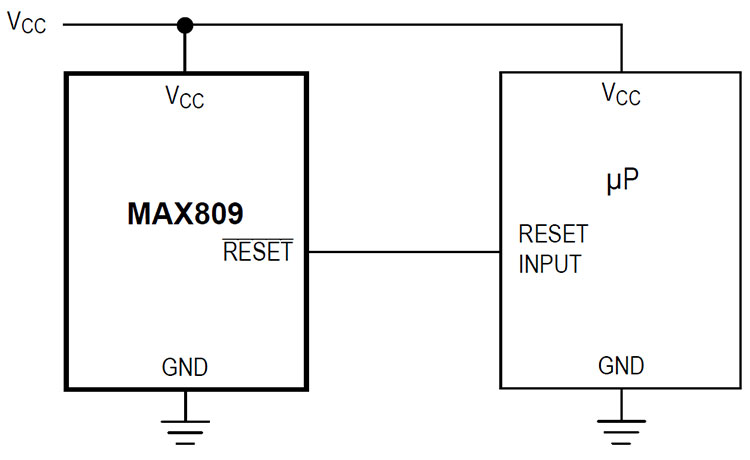 Applications
Automotive
Computers: Desktop, Workstation, Server
Critical µP and µC Power Monitoring
Intelligent Instruments
Portable Battery-Powered Equipment
Embedded Systems
Infotainment
Instrument Cluster
Selection Table
| | | |
| --- | --- | --- |
| PART/SUFFIX | RESET THRESHOLD (V) | OUTPUT TYPE |
| MAX809L | 4.63 | Push-Pull Active LOW |
| MAX809M | 4.38 | Push-Pull Active LOW |
| MAX809J | 4.00 | Push-Pull Active LOW |
| MAX809T | 3.08 | Push-Pull Active LOW |
| MAX809S | 2.93 | Push-Pull Active LOW |
| MAX809R | 2.63 | Push-Pull Active LOW |
| MAX809Z | 2.32 | Push-Pull Active LOW |
2D-Model (SOT-23) and Dimensions