LM1084 Low Dropout Positive Regulator
[Click the image to enlarge it]
Pin Configuration
| | | |
| --- | --- | --- |
| Pin No. | Pin Name | Description |
| 1. | ADJ/GND | Adjustable pin for adjust output version. Ground for fixed type version |
| 2. | OUTPUT | Output Voltage Pin |
| 3 | INPUT | Input Voltage Pin |
Features
Three variants available: 3.3V, 5V and Adjustable Version
Current Limiting and Thermal Protection
5Amps of Output Current
Line Regulation 0.015% (typical)
Load Regulation 0.1% (Typical)
Available Package: TO-263 and TO-220
Technical Specification
Maximum Input and Output Voltage Differential

For LM1084-ADJ: 29V
For LM1084-3.3: 27V
For LM1084-5: 25V

Storage Temperature Range: -65 to 150 °C
Junction Temperature: 150°C
Soldering Temperature: 260°C to 10 sec.
Equivalent to LM1084
LM1085
Brief Description
There are plenty of voltage Regulator ICs such as LM317 and 78XX series. LM1084 is a Positive Voltage Regulator with low voltage drop at high current value. The maximum voltage drop by LM1084 regulator at 5A of load current is 1.5V. LM1084 Pinout Pin is similar to LM317. You can even adjust the regulated output voltage just by using two resistors. LM1084 comes with an integrated Zener diode for current limiting and thermal shutdown purpose.
How to Use LM1084 Regulator?
Using a LM1084 is as easy as using LM317 regulator because it have the same pin configuration. Also, LM1084 comes with three variants in which two types have fixed regulated output and one is adjustable regulator. As you can see in the below diagram, this LM1084 is in adjustable mode and you can vary the regulated output voltage by changing the value of resistor R1 and R2.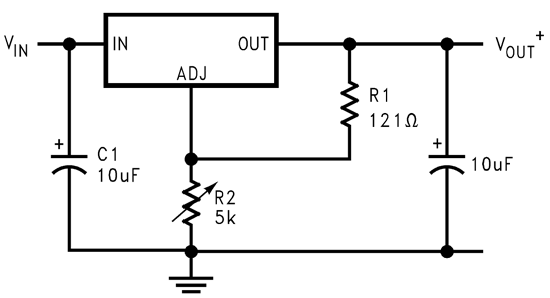 In fixed type regulator of LM1084, the ADJ pin is replaced by GND (Ground) pin. Check the connections for fixed type regulator below:
2D-Model