CA3140 General Purpose Op-Amp IC
The CA3140 is a 4.5MHz, BiMOS Operational Amplifier with MOSFET Input/Bipolar Output that combines the advantages of high voltage PMOS transistors with high voltage bipolar transistors on a single monolithic chip.
CA3140 Pinout Configuration
| | | |
| --- | --- | --- |
| Pin Number | Pin Name | Description |
| 1,5 | Offset NULL | Used to set offset voltage if required |
| 2 | Inverting Input (IN-) | The Inverting pin of the Op-Amp |
| 3 | Non- Inverting Input (IN+) | The Non-Inverting Pin of the Op-Amp |
| 4 | V- | Connected to negative rail or ground |
| 6 | Output | Output pin of the Op-Amp |
| 7 | V+ | Connected to a positive rail of supply voltage |
| 8 | STROBE | This pin can be used for phase compensation or to shut down the output stage. |
CA3140 Features and Specifications
Supply Voltage: 4V to 36 V

Output Current per Channel: 40 mA

GBP - Gain Bandwidth Product: 4.5 MHz

SR - Slew Rate: 9 V/us

CMRR - Common Mode Rejection Ratio: 70 dB

Operating Supply Current: 4 mA

Voltage Gain dB: 100 dB

Very High Input Impedance (ZIN) -1.5TΩ

Very Low Input Current (Il) -10pA at ±15V

Available in 8-Pin PDIP Package
Note: Complete Technical Details can be found at the CA3140 datasheet given at the end of this page.
CA3140 Equivalents: UA741
Alternatives Audio Amplifiers: LM4871, AD620, IC6283, JRC45558, TL081, LF351N, MC33171N
Where to use the CA3140 IC
CA3140 is a single package Op-Amp that has been widely used by engineers and students for quite a long time now. This Op-Amp can be used for many general purpose applications like Voltage follower, Buffers, Comparators, Amplifiers, Adders and much more. So if you looking for a plain old Op-Amp just for some basic circuit design then this IC might be the right choice for you.
How to use

CA3140 IC
CA3140 is very similar to the CA3240 Op Amp. The main difference is that CA3240 has two Op-Amps inside package making to more cost-effective and compact.
One notable unique feature of the CA3140 Op-Amp is that it has two Offset Null pins (pin1 and pin 5). These two pins can be used to correct the offset error of an Op-Amp. That is when the voltage difference between the inverting and no-inverting pins is zero the output voltage of the Op-Amp should also be zero. If not then it is considered as offset error and it can be brought to zero again by providing an offset voltage through the offset pins that would nullify the error.
A test circuit from the CA3140 datasheet is given below.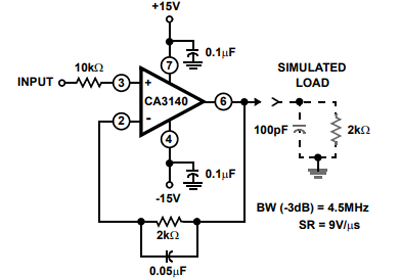 Applications of CA3140 iC
Sample and Hold Amplifiers

Peak Detectors

Active Filters

Comparators

Interface in 5V TTL Systems and Other Low Supply Voltage Systems

All Standard Operational Amplifier Applications

Function Generators
2D-Model of CA3140 IC
Dimensions for the CA3140 IC is given below. These dimensions are for the SOIC package. If you are using different package IC please refer to the CA3140 datasheet.