24C04 Two-Wire Serial EEPROM
The 24C04 provides 4096 bits of serial electrically erasable and programmable read-only memory (EEPROM) organized as 512 words of 8 bits each. This IC is used in applications where low-power and low-voltage operations are essential.
24C04 Pinout Configuration
| | | |
| --- | --- | --- |
| Pin Number | Pin Name | Description |
| 1,2,3 | A0,A1,A2 | User configured Chip Select pins, useful during cascading |
| 4 | Vss (Ground) | Connected to the ground of the circuit |
| 5 | Serial Data (SDA) | Serial Data pin for I2C Communication |
| 6 | Serial Clock (SCL) | Serial Clock pin for I2C Communication |
| 7 | Write-Protect | If connected to Vss write is enabled, if connected to Vcc write is disabled. |
| 8 | Vcc | Connect to supply rail |
24C04 Specifications & Features
Supply Voltage: 1.7V to 3.6V

Supply Current - Max: 1 mA

Memory Size: 4 Kbit

Organization: 512 x 8

Interface Type: Serial, 2-Wire, I2C

Maximum Clock Frequency: 1MHz

Write Protect Pin for Hardware Data Protection

Partial Page Writes Allowed

Self-timed Write Cycle (5ms max)

Available in 8-pin PDIP, SOIC and TSSOP packages
Note: Complete Technical Details can be found at the 24C04 datasheet given at the end of this page.
Equivalent for 24C04: 24LC512, AT24C256
Alternatives EEPROM'S: 24LC1026, 25LC050, 24C32
Where to Use 24C04 EEPROM IC
The 24C04 is a two-wire, 8-pin serial EEPROM IC. EEPROM stands for Electrically Erasable Programmable Read-Only Memory. 24C04 IC has an operating voltage range from 1.7V to 3.6V, which makes it ideal to be used for 3.3V systems. This IC comes with a memory space of 4K bit and can be cascaded with 8 similar IC if expansion is required. The IC works with Serial, 2-Wire, I2C protocol (IIC/I2C), and hence it is easy to interface with most of the MCU's and consumes less number of pins.
So if you are looking to use an EEPROM IC where low-power and low-voltage operation are essential, then this IC might be the right choice for you.
How to Use 24C04 IC
Interfacing 24C04 with a microcontroller is very easy as you only require to connect 5 pins. The interfacing diagram for 24C04 IC is shown below.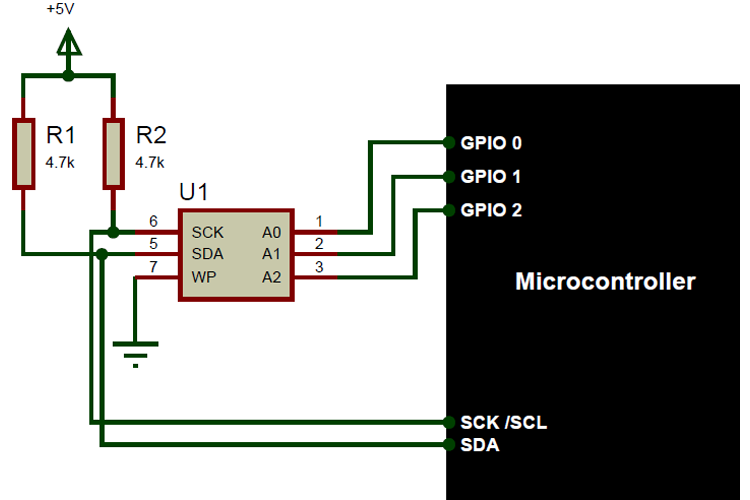 The Serial Clock SCK (pin 6) is connected to the Serial clock pin of the microcontroller, and the Serial Data SDA (pin 5) is connected to the Serial Data pin of the microcontroller. Also, like all I2C communication, SCK and SDA pins are pulled high using two pull-up resistors or while 4.7k. This will keep the bus at high state during the idle conditions.
Chip select pins (A0, A1, and A2) are useful only if more than one I2C device or EEPROM is connected to the same microcontroller, else three pins can be grounded directly. In the above diagram, we have connected the three pins to the GPIO pins so that we can cascade more than one EEPROM IC if required.
The Write Protect WP (pin 7) is provided for improving data security in the IC. The data can be written or erased on the EEPROM only if the WP pin is held low (logic 0). Else the data written on the EEPROM will remain as such. Normally this pin will be grounded (logic 0) when the protection is not needed. Data can be read from the EEPROM at all conditions irrespective of the status of the WP pin.
Applications of

24C04 EEPROM IC
Data Logging

Audio devices

Remote storage devices

Data analytics

Storage devices

Used where Flash memory of MCU is less
2D-Model of

24C04 IC
Dimensions for 24C04 IC is given below. These dimensions are for the 8-Pin PDIP package. If you are using a different package IC, please refer to the 24C04 datasheet.