21236N PCB Mount SPDT Toggle Switch
Pin Configuration
| | | |
| --- | --- | --- |
| S. No. | Pin Name | Description |
| 1. | 1 | Output 1 |
| 2. | COM | Input |
| 3. | 2 | Output 2 |
Features and Specifications
21000N series
Plain bushing, with mounting plate
Low profile toggle switches
Same height for single and double pole
Wave solderable only
Low level or mechanical life: 100,000 cycles.
Operating temperature: -40 °C to +85 °C (-40 °F to +185 °F)
Electrical Specifications
Max. Current/voltage rating with resistive load: Silver contacts (A): 4 A 30 VDC, Gold plated brass contacts (LD): 100 ma 30 VDC
Minimum load: Silver contacts (A)- 100 ma 10 V, Gold plated brass contacts (LD)- 10 μa 5 VDC - 10 ma 50 mv
Initial contact resistance: 20 mω max.
Insulation resistance: 1,000 MΩ min. At 500 VDC
Dielectric strength: 1,000 Vrms 50 Hz min. Between terminals; 2,000 Vrms 50 Hz min. Between poles, 2,000 Vrms 50 Hz min. Between terminals and frame.
Electrical life at full load: Silver contacts (A)- 20,000 cycles; Gold plated brass contacts (LD)- 50,000 cycles
Materials
Case and cover: PBT
Actuator: brass, nickel plated
Bushing: brass, nickel plated
Contacts: A - silver, LD - brass, gold plated
Terminal seal: epoxy
Brief about Toggle Switch
There are four types of switches, classified below:
Single Pole Single through (SPST)
Single pole double throw (SPDT)
Double pole, single throw (DPST)
Double pole double throw (DPDT
SPDT Toggle Switch is a three terminal switch, only one is used as input other two are as output. Therefore, we get two outputs, first from COM (pin 2) and pin 1 and second is from COM and pin 3, but only one at a time. Mainly it is used in three-way circuit to turn ON/OFF an electrical appliance from two locations.
How to select the toggle switch?
Selecting toggle switch using the part number is shown in the image below followed by an example of the 21236N toggle switch.

21236N ------ 21 2 3 6 N
21- Series
2- Straight PC terminals, plain bushing
3- Single pole
6- Electrical function is: ON ­­- ON
N- for all modes
From the above part number 21236N on the toggle switch, we can see that it is a single pole double throw switch with has two outputs or ON-control as its common terminal switches between output1 (pin1) and output2 (pin3). The 21236N Series comes in plain bushing structure with PCB mounting feature.
How to Use Toggle Switch?
In the circuit below, the pin 1 and pin 3 are connected to the LED D1 and LED D2 respectively. Initially, at pin1 the LED D1 will glow and LED D2 will remain in OFF. When we toggle the switch to pin 3, the LED D2 turns ON and LED D1 goes into OFF condition. So, we can control two loads from a single switch using SPDT toggle switch.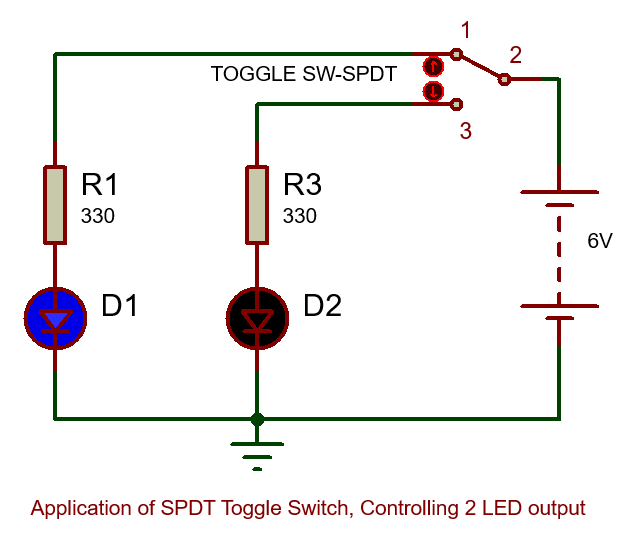 2D-model and PCB mounting