VEML6035 - New Ambient Light Sensor for Wearables and Smartphones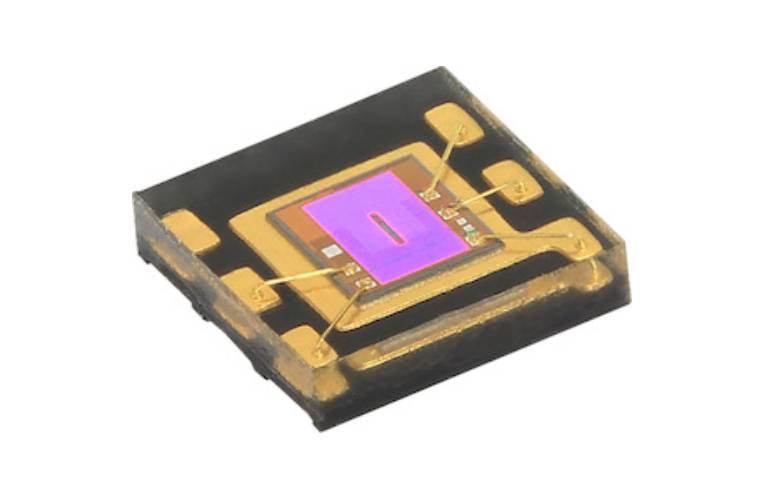 Vishay Intertechnology has released a new space-saving ambient light sensor VEML6035 for small form factor applications such as smart watches and sport bands where very high sensitivity is needed to allow light to be sensed through an often very dark cover glass. The VEML6035 ambient light sensor features a very high sensitive photo-diode, low-noise amplifier, and 16-bit ADC in a miniature low profile, transparent surface-mount package measuring only 2 mm x 2 mm x 0.4 mm. The device small size profile will help in many design options for display management in space-constrained designs. To eliminate loading on the host, the sensor uses an active interrupt function that is triggered outside the threshold window settings. 
The VEML6035 sensor features Filtron wafer-level optical filter technology which will enable ambient light spectral sensitivity close to that of the human eye. The device can operate in applications with low-transmittance (dark) lens designs since it features detection with highly linear behavior from 0.004 lx to 6710 lx and resolution down to 0.0004 lx/ct. The 100 Hz and 120 Hz flicker noise rejection and excellent temperature compensation helps it to maintain stability despite changes in ambient temperature.
VEML6035 Specifications: 
Integrated modules: ambient light sensor (ALS)
Operating Voltage:  from 1.7 V to 3.6 V
I2C Bus Operating Voltage: from 1.7 V to 3.6 V
ALS(Ambient Light Sensor) output tolerance: ≤ 10 %
Flicker noise rejection: 100 Hz and 120 Hz
AMBIENT LIGHT RANGE (lx): 6710
AMBIENT LIGHT RESOLUTION (lx): 0.0004
Dimensions (L x W x H in mm): 2.0 x 2.0 x 0.4
Low stand by current consumption: typ. 0.5 μA
Floor life: 168 h, MSL 3, according to J-STD-020
Operation/Storage temperature range: from -25 to +85 °C
VEML6035 Features: 
Excellent temperature compensation
High dynamic detection resolution
operated via a simple I2C command
Applications: 
Ambient light sensor for mobile devices (e.g. smart phones, touch phones, PDA, GPS) for backlight dimming even under tinted glass
Ambient light sensor for industrial on- / off-lighting operation
Optical switch for consumer, computing, and industrial devices and displays
The device comes in a lead (Pb)-free, 6-pin package and is RoHS-compliant, halogen-free, and Vishay Green with low power consumption down to just 170 μA in operating mode and 0.5 μA in programmable shutdown mode.