THCV243 – Compact and Low Power MIPI CSI-2 Serializer IC for Endoscope Camera Applications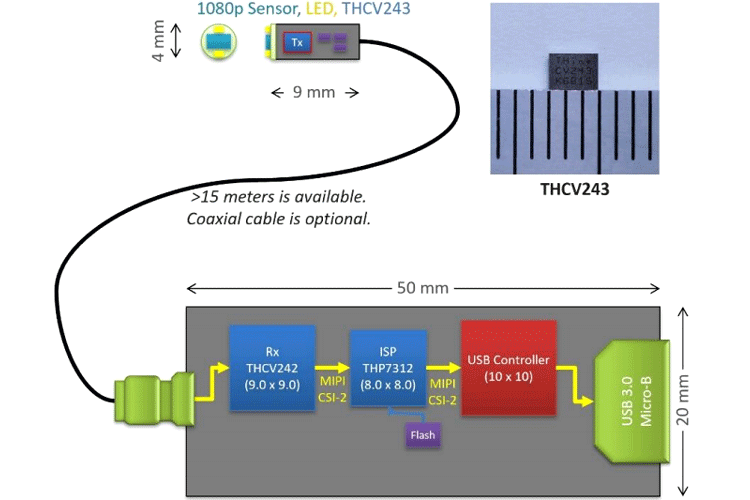 THine has introduced a new MIPI CSI-2 serializer IC called THCV243 that allows the engineers to extend the MIPI CSI-2 transmission to greater than 15 meters with a tiny 2.1mm x 2.9mm package ideal to be used in high definition Endoscope camera applications. This chip helps in reducing the number of cables between the camera and processor board by aggregating the GPIO-type bidirectional control signals.
The MIPI CSI-2 output is limited to a short-range transmission of approximately 1 foot for the demanding high resolution and high frame rate cameras. To extend this distance up to 10 feet or more, the THCV243 serializes up to 4 lanes of MIPI CSI-2 signals and converts it into a single lane of V-by-One HS(a high-speed digital interface protocol). It allows us to extend the transmission of 1080p60 2Mpixel uncompressed video over long distances as the IC supports up to 4Gbps per lane.
Features of THCV243

            
MIPI® CSI-2 to V-by-One® HS conversion

MIPI® CSI-2 input Supports up to 1.2Gbps/lane and 1,2 or 4 lanes

V-by-One® HS output Supports up to 4.0Gbps(effective rate 3.2Gbps) and 1 or 2 lanes

Embedded spread spectrum clock generator

Power Supply voltage: 1.7V-3.6V,1.1V-1.3V

A bi-directional system control link with I2C/GPIO

Package:CSP35 (2.1mm x 2.9mm)

Operating temp:-40 to 105

℃
More technical information can be found in the THCV243 datasheet linked at the bottom of this page.
The Small Package size makes it suitable for applications such as dashcam, security camera, industrial camera, medical camera, and wearable camera. The THCV243 chipset supports "Sub-Link" that aggregates bidirectional low-speed signals such as GPIO. Debugging in the system is easy due to the separation of V-by-One HS high-speed signal path and Sub-Link, this gives more choices for physical harnesses including the utilization of Keyssa's contactless connection for systems benefiting from or requiring a ruggedized, low latency, detachable camera.