TFBR4650 – Reliable Drop in Replacement for existing Infrared Transceivers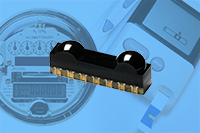 With a standard Infrared Transceiver's footprint of 6.8mm by 2.8mm by 1.6mm Vishay has launched a new Infrared Transceiver device that is IrDA compliant. This device is expected to act as a reliable drop in replacement for devices from other manufacturers in case of discontinuation to prevent PCB redesigns.
The Transceiver consists of a PIN photodiode, infrared emitter and a control IC in a single package. It supports data rates from 9.6 kbit/s to 115.2 kbit/s for wireless transmission in gas and power meters, cell phones, microphones, robots and mobile medical devices.
TFBR4650 Key Features:
Data Rate: 115.2 kbit/s
Link Distance: 30cm
Operating Voltage: 2.4V to 5.5V
Supply current: 0.075 mA
Shutdown Current: 10nA
Transmission distance: 50cm
IrDA Compliant
The TFBR4650 features a link distance up to 30 cm with standard IrDA and up to 20 cm with low power IrDA. The low power specification can be increased to 50 cm using an external resistor to set the emission intensity. Providing low power consumption, the module offers an idle supply current of 75 μA at 3.6 V and a shutdown current of 10 nA typical at +25 °C. Lead (Pb)-free and RoHS-compliant, the device operates from 2.4 to 3.6 V over a temperature range of -25 °C to +85 °C. You can find more information at the datasheet linked below.
Samples and production quantities of the new IR transceiver module is now available with a lead time of eight weeks.