TCR5RG: Compact LDO Regulators for Stable Power Line Output in Smartphone and Wearable Devices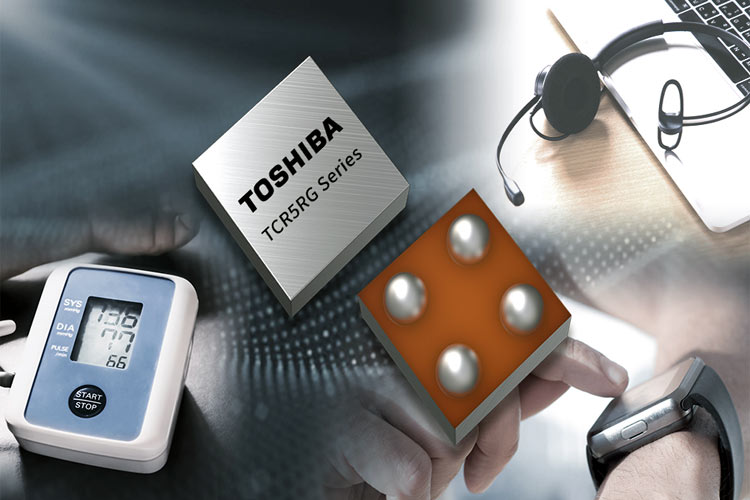 The newly launched TCR5RG series from Toshiba Electronic Devices & Storage Corporation is a group of 45 LDO regulators all housed in a thin, compact WCSP4F package. With a maximum output current of 500mA and output voltage in the range of 0.9V to 5.0V the new devices allow the users to select the output voltage best suited to their applications.
The TCR5RG series offers an industry-leading high ripple rejection ratio of 100dB that is achieved by combining a wide-gap circuit, a low-pass filter that allows only extremely low frequencies to pass, and a low-noise, high-speed operational amplifier. Apart from this the series also features low output voltage noise and high output voltage accuracy for enabling the regulators to contribute to the stabilization of power lines.
These regulators measure 0.645mm x 0.645mm and are suitable for power line applications in cameras and small devices such as smartphones and wearables requiring high-density mounting.
Features of TCR5RG Series
High ripple rejection ratio: R.R.=100dB (typ.) @f=1kHz

Low output noise voltage: VNO=5μVrms (typ.) @10Hz≤f≤100kHz

High output voltage accuracy :

VOUT min/max= -1.5/1.5% @1.8V≤VOUT≤2.8V, Tj = -40 to 85°C
VOUT min/max= -1.8/1.8% @VOUT>2.8V, Tj = -40 to 85°C

Thin and compact WCSP4F package : 0.645×0.645mm (typ.), t=0.33mm (max)
Note: More technical information can be found in the TCR5RG series Datasheet linked at the bottom of this page and on the product page of TCR5RG series LDO regulators.