TCR3RM-Series of Low Noise Ultra-Compact LDO Voltage Regulators with High Ripple Rejection Ratio for Wearable and IoT Applications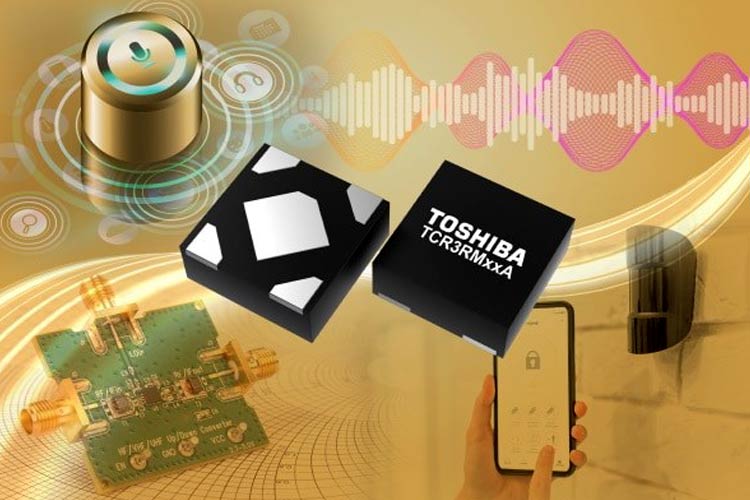 Toshiba Electronics has introduced the TCR3RM series of low noise ultra-compact low dropout (LDO) voltage regulators in a plastic DFN4C package measuring 1.00 mm x 1.00 mm x 0.38 mm. The series comprises 32 product variants with fixed single output voltage in the range of 0.9 VDC to 4.5 VDC and a maximum output current of 300mA. Unlike other LDO regulators where the ripple rejection ratio usually drops 20 dB every 10-fold increase in frequency, the TCR3RM falls significantly less. When the output voltage is 2.8V The TCR3RM series features high ripple rejection ratio characteristics of 100 dB at 1 kHz and 68dB at 1MHz.
The device may deliver a high degree of power supply line stability and voltage accuracy when the ripple rejection attributes of the TCR3RM series are coupled with its low noise credentials, typically 5 µVrms at 10 Hz ≤ f ≤ 100 kHz. Features such as the bandgap circuit, a low pass filter, and a low-noise, high-speed operational amplifier allow the TCR3RM series to provide high ripple rejection and output noise specifications.
The regulators are suitable for use in a wide variety of portable and wearable devices, such as sensors, RF devices, and IoT applications or any applications where the available board space is at a premium and high-density mounting is required.
Features of TCR3RM Series
Low output noise voltage (VNO = 5 μVrms (Typ.) at 10Hz ≤ f ≤ 100kHz)

Low quiescent current ( IB = 7 μA (Typ.) at IOUT = 0 mA)

Low Dropout voltage VDO = 130 mV (Typ.) at 2.8 V-output, IOUT = 300 mA

Wide range output voltage line up (VOUT = 0.9 to 4.5 V)

Pull down the connection between CONTROL and GND

Ceramic capacitors can be used (CIN = 1 μF, COUT =1 μF)
Note: More technical information can be found in the TCR3RM Series Datasheet linked at the bottom of this page and on the TCR3RM Series product page.