STUSB4500L - USB Type-C Controller IC for Power Sinking Devices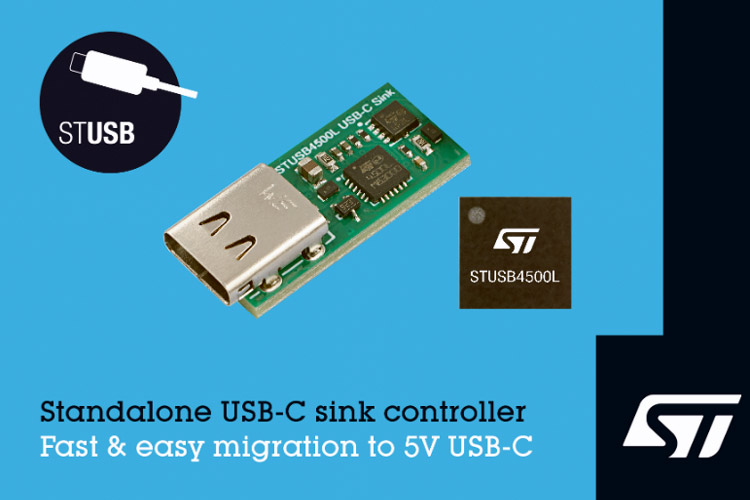 The STMicroelectronics' STUSB4500L is the company's small footprint USB-C controller IC family designed for pure 5V sink-only applications. All the features that are required for the use of USB-C connector as a 5V universal power plug are included in the new device, this allows the designers to implement USB-C charging solutions quickly and easily without studying the standard or writing code. The USB-C can offer the advantages of reversible orientation and greater robustness up to 10,000 connect/disconnect cycles.
The STUSB4500L is auto powered by a VBUS from the connected source, the input over-voltage protection prevents the low-voltage equipment from getting damaged if it isn't connected correctly.
Features of STUSB4500L USB-C controller
Auto-run Type-C™ sink controller

Dead battery mode support

Integrated VBUS switch gate drivers (PMOS)

Integrated VBUS voltage monitoring

Short-to-VBUS protections on CC pins

High voltage capability on VBUS pins

Zero leakage current prevents draining the battery when not charging

VBUS powered: Zero consumption on local battery or application, VDD = [4.1 V; 22 V]

Temperature range: -40 °C up to 105 °C

ESD: 3 kV HBM - 1.5 kV CDM
Note: More information can be found in the datasheet linked at the bottom of this page and in the STUSB4500L USB-C controller product page.
ST's new USB-C controller IC is a stand-alone, plug and play interface product designed for low voltage applications such as Bluetooth speakers, computer accessories, Wi-Fi access points, point-of-sale equipment, LED lighting, and USB dongles. It is also used for powering equipment such as single-board computers and hardware development kits. The Adaptation of the USB-C connector is easy and time-saving as it runs without additional code and requires no external support from the microcontroller.
The true cold-socket implementation keeps the VBUS switch open by default until safe 5V input power is supplied, source power-budget identification, and error-recovery support to ensure correct re-starting when a fault is triggered. STUSB4500L is available now in a choice of 4mm x 4mm QFN-24 package or 2.6mm x 2.6mm CSP-25 chip-scale package, priced from $0.70 and $0.75 respectively for orders of 1000 pieces.