STM8-SO8-DISCO Discovery Development kit for STM8S and STM8L Microcontrollers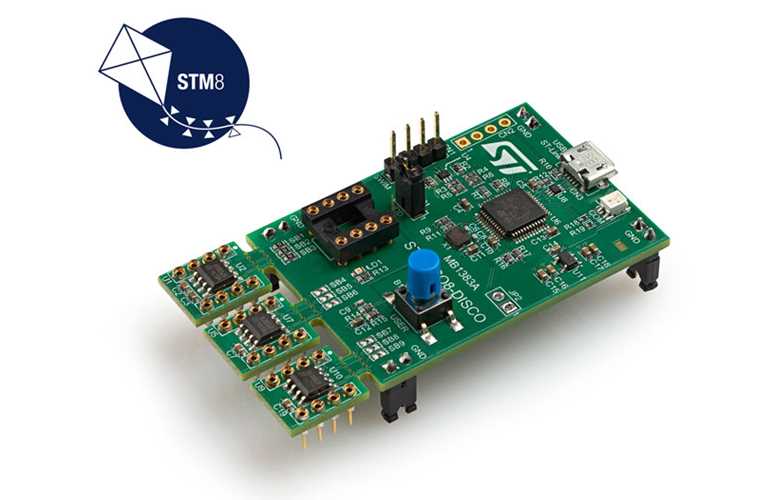 ST Microelectronics has today announced a new development board called the STM8-SO8-DISCO Discovery kit with three microcontrollers namely STM8S001J3M3, STM8L001J3M3 and STM8L050J3M3. The discovery kit includes all the three microcontrollers along with an on-board ST-LINK/V2 for easier debugging and programming and also can be easily plugged into PC through a USB Type-A or Micro-B Cable.
All MCUs are 8-pin controllers (SO8 package) that use the STM8 core running at 16MHz, and 8Kbyte on-chip Flash with six I/Os. System-control features include watchdog and clock control, and popular communication interfaces including UART, SPI, and Fast I2C. The STM8S001J3M3 consists of advanced 16-bit timers with three comparator outputs, three capture-compare channels, a 10-bit ADC, and an 8-bit timer. The ultra-low-power STM8L001J3M3 consumes just 0.3µA in Halt mode and integrates 8- and 16-bit timers and two comparators. And the STM8L050J3M3 adds a 12-bit ADC and 4-channel DMA controller.
Key Features:
STM8S001J3M3: 8 Kbytes of Flash memory, 1 Kbyte of RAM and 128 bytes of EEPROM
STM8L001J3M3: 8 Kbytes of Flash memory including up to 2 Kbytes of Data EEPROM and 1.5 Kbytes of RAM
STM8L050J3M3: 8 Kbytes of Flash memory, 1 Kbyte of RAM and 256 bytes of Data EEPROM
1 user LED
1 user push-button
Individual and breakable STM8 SO8 to DIL8 module
DIL8 socket to ease programming of the STM8 MCU
On-board ST-LINK/V2 debugger/programmer
Comprehensive free software libraries and examples
The complete information about the board can be found at the document linked below. The Discovery kit is currently priced at $8.50 and is available for purchase from ST's website or from its distributors. You can visit their website for more information.