New STM32MP1 Microprocessors with 800MHz clock speed for Industrial and IoT Applications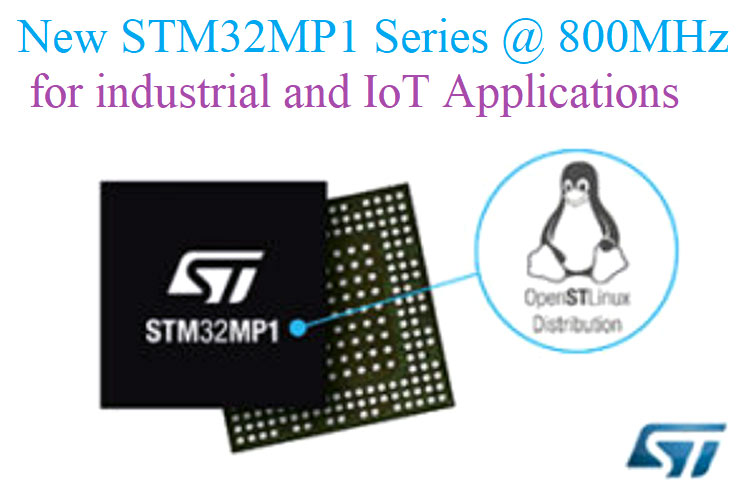 STMicroelectronics expands its STM32MP1 microprocessor series with the addition of new software functionalities, and an increase in the clock speed up to 800MHz. It also maintains the software and pin-to-pin compatibility with the 650MHz devices. The flexible STM32MP1 architecture enhances the security to protect the customer's code with the help of the features like secure boot by authentication, available One-Time Programmable fuses for customers, and a secure operating system (OP-TEE: Trusted Execution Environment). The complete toolset consisting of Keys Generator, Signing Tools, STM32CubeProgrammer, and hardware security module(STM32HSM) allows secure provisioning of the customer's secrets into the device.
Features of STM32MP1 Microprocessors
Runs with dual Arm® Cortex®-A7 application processor cores at 800MHz

Runs with Cortex- M4 core at 209MHz

Junction temperature from -40°C to 125°C

Delivers more power in Voice and Audio Processing up to HD video Decoding quality

More powerful AI (Artificial Intelligence) capabilities in Neural-Network and Machine-Learning applications

Provides better user experience in Android systems

Features compute and 3D graphics accelerators combined with power-efficient real-time control and high feature integration
Note: More technical details about the STM32MP153 Microprocessor can be found in the datasheet linked at the bottom of this page.
STM32MP1 part numbers supporting Cortex-A7 at 800MHz are in production now, priced starting at $4.83 for orders of 10,000 pieces. For more information about the STM32MP1 series MPUs, visit the official website of STMicroelectronics.