SST38LF6401RT- 64Mbit, Radiation Tolerant SuperFlash Memory Device for Reliable and Robust Operation in Space Applications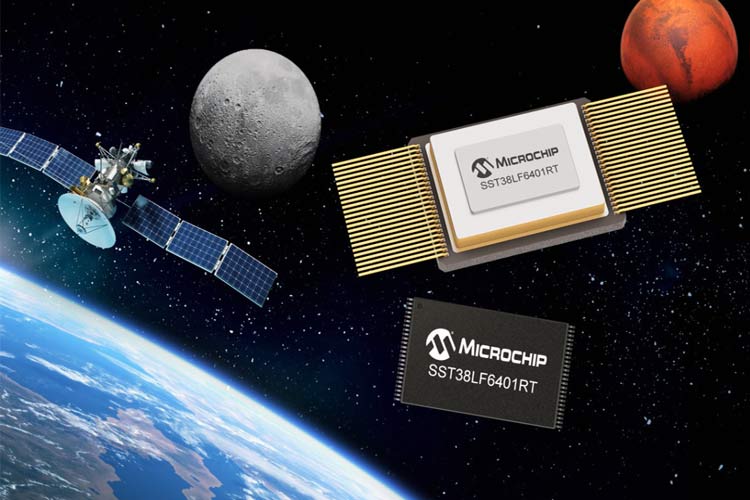 Microchip has introduced a radiation-tolerant, 64Megabit(Mbit) parallel-interface SuperFlash memory device that offers maximum reliability and robustness. The Total Ionizing Dose (TID) tolerance of the SST38LF6401RT makes it the best choice for harsh radiation environments such as space missions.
The SST38LF6401RT can be easily used along with Microchip's space-ready microcontrollers (MCUs), microprocessors (MPUs), and Field Programmable Gate Arrays (FPGAs) that provide the building blocks for this scalable development model. The new Commercial-Off-The-Shelf (COTS) device has been developed to reduce the time, cost, and risk of developing spaceflight-qualified systems.
With a radiation tolerance of up to 50 kilorad(krad) TID, the SuperFlash device allows the system to operate in a broad range of space applications where they want to avoid loss of code execution which might lead to severe defects and system loss.
The SST38LF6401RT is an ideal companion for Arm Cortex-M7-based radiation-hardened SoC processor and the RTpolarFire FPGAs that support inflight system reconfigurations. The SST38LF6401RT is available for purchase in a ceramic version and supported by evaluation board and demonstration software.
Features of SST38LF6401RT
Superior Reliability: Endurance: up to 10,000 Cycles minimum / Greater than 100 years Data Retention

Low Power Consumption (typical values at 5 MHz): Active Current: 4 mA (typical) / Standby Current: 3 µA (typical) / Auto Low Power Mode: 3 µA (typical)

Fast Read and Page Read Access Times: 90 ns Read access time / 25 ns Page Read access times / 4-Word Page Read buffer

Fast Erase Times: Sector-Erase Time: 18 ms (typical) / Block-Erase Time: 18 ms (typical) / Chip-Erase Time: 40 ms (typical)

Fast Word and Write-Buffer ProgrammingTimes: Word-Program Time: 7 µs (typical) / Write Buffer Programming Time: 1.75 µs Word(typical) / 16-Word Write Buffer
Note: More technical information can be found in the SST38LF6401RT Datasheet linked at the bottom of this page and on the SST38LF6401RT product page.