SMD OXCO Solutions with Ultra-Low Phase Noise and High Stability for Precision Holdover Applications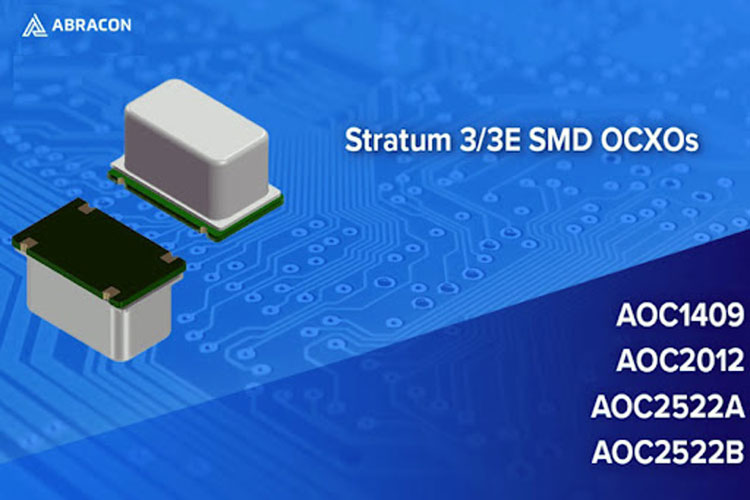 Abracon has introduced new OXCO Solutions "AOC2012, AOC1409, and AOC2522A/AOC2522B" with precision SC-cut high "Q" quartz crystal resonator design, coupled with precision temperature monitoring and control circuitry.  These OXCOs work for 5G or GPS applications that require high-frequency stability with low phase noise and precision holdover performances, such as base stations, small cell platforms, internet data centers, and satellite and aerospace communications. Moreover, these OXCOs enable to meet Stratum 3 and 3E requirements and feature precision stability over temperature along with an ultra-low ±1ppb daily aging that enables ±15ppb and 24-hour holdover accuracy.
The AOC2012 Series has a 20.32 x 12.70 x 11.00mm SMD (4-pin) package and a -20°C to +70°C operating temperature range. The AOC1409 and AOC2522 offer a -40°C to +85°C operating temperature range and are available in 14.9 x 9.7 x 7.0 (6-pin) package and 25.4 x 22 x 12.7mm (5-pad) package size respectively. Moreover, the AOC1409 supports the 20 MHz frequency and the AOC2522 Series features ±750ppb long-term aging.
Features
Extremely low long-term aging: ±700ppb over 20 years

Stability over temperature: ±10ppb over -40°C to +85°C

Excellent phase noise: (-138dBc/Hz typ. @ 100Hz offset, -148dBc/Hz typ. @ 1kHz offset)

20.0MHz carrier frequency

14.9 x 9.7mm, 6-pin SMD reflow-solderable package

3.3 Vdd supply

SC-Cut, High "Q" resonator-based design
Applications
Stratum 3 & Stratum 3E compliant

Cellular infrastructure; Base stations

Test & measurement equipment

Switches & routers

Time & frequency references

Precision GPS