SCM3403ASA - Wide Power Range, Low Cost Half-Duplex RS485/RS422 Transceiver IC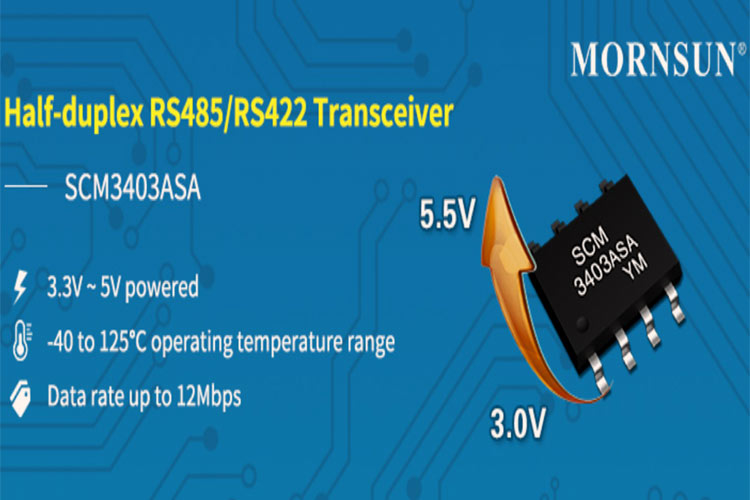 MORNSUN has introduced the SCM3403ASA, a 3.3Vand 5V half-duplex, low power RS485/RS422 transceiver with ESD protection of bus port above 15kV HBM, and bus withstands voltage up to ±15V. The device includes a driver and a receiver, which can be enabled and disabled individually when both are disabled, they will operate in a high impedance output state.
The 1/8 unit load of the SCM3403ASA allows up to 256 transceivers on the same communication bus for large node counter systems. With the help of a remote utility meter reading system, individual utility meter readings are stored in a concentrator with an RS-485 network, so the high allowed node count minimizes the number of repeaters required to network all the meters. The data for all meters are read from the concentrator with the help of a single access port or a wireless link.
Features of SCM3403ASA
3.0V-5.5V wide power range
Operating temperature range: -40 to 125°C
ESD protection of bus port: 15kV HBM
Bus fault tolerance withstand voltage up to ±15V
Data rate up to 12Mbps in an electrical noise environment
1/8 Unit Load-up to 256 Nodes on a Bus
Short circuit protection, driver short circuit protection, and receiver open circuit expired protection
Fail-safe, current limit protection, and over-voltage protection.
Low power Consumption
Strong anti-chirp capacity
Note: More technical information can be found in the datasheet linked at the bottom of this page and on the SCM3403ASA product page.