RM50xQ - 5G New Radio (NR) Sub-6GHz Modules for Enhanced Mobile Broadband (eMBB) and IoT Applications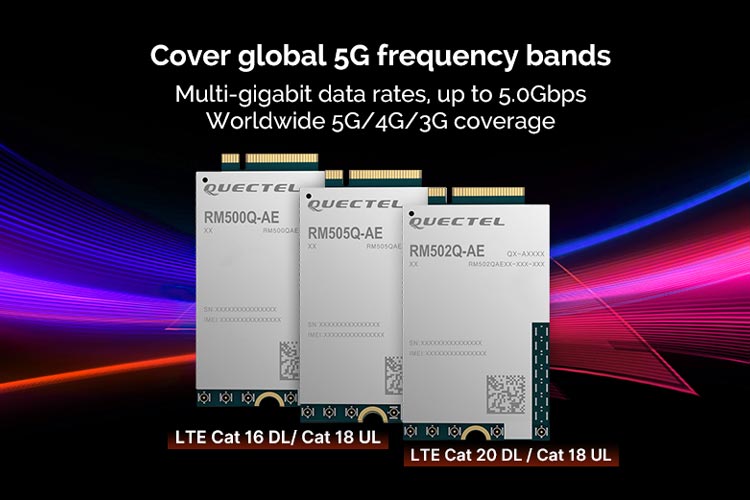 Quectel Wireless Solutions has introduced three 5G New Radio (NR) Sub-6GHz modules including the RM500Q-AE, the RM502Q-AE, and the RM505Q-AE. The new modules supported by the Qualcomm Snapdragon X55 commercial 5G modem feature super-fast speed, low latency, and enhanced carrier aggregation (CA) technology.
The new device can be used in a variety of enhanced Mobile Broadband (eMBB) and IoT applications such as fixed wireless access (FWA), 4K/8K live streaming, online meeting applications, telemedicine, smart transportation, and industrial IoT (IIoT). All the modules can operate in both standalone (SA) and non-standalone (NSA) modes and support worldwide coverage of 5G NR Sub-6GHz, LTE-A, and WCDMA frequency bands and provide reliable 5G solutions to IoT customers globally.
These new modules come with multiple interfaces including USB 3.0, PCIe 3.1, and eSIM to enable maximum connection options for devices including gateways, industrial routers, CPE, live broadcast, MIFI, laptops, tablets, and more. The RM502Q-AE has got the IC, FCC, PTCRB, GCF, RED, and RCM certifications, whereas the RM500Q-AE and the RM505Q-AE have completed CE and RCM certifications.
Features of the 5G RM50xQ Modules
Cover global 5G frequency bands

Multi-gigabit data rates, up to 5.0 Gbps

DL 4 × 4 MIMO for 5G NR and LTE-A bands

Multi-constellation GNSS capabilities

Abundant interfaces: USB 3.0/3.1, PCIe 3.0 and eSIM

Available in M.2 form factor
Note: More technical information can be found on the 5G RM50xQ product page.