Radiation Hardened Mixed-Signal Motor Controller for Increased Reliability, Reduced Weight and Board Space in Satellites and Other Space Systems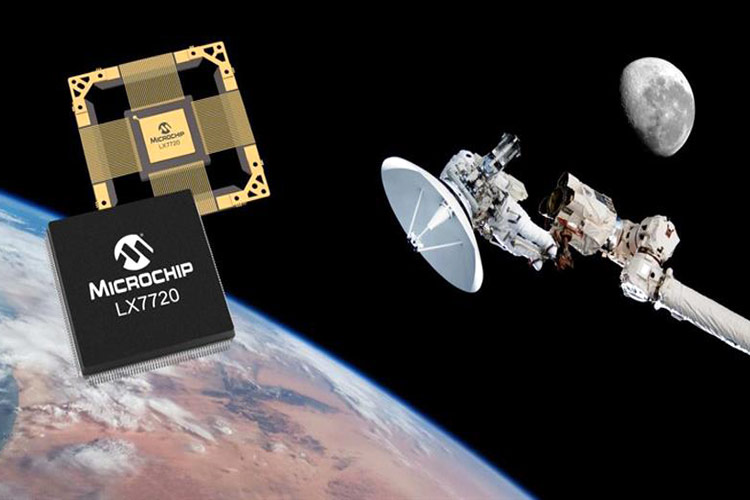 Microchip Technology has introduced the LX7720 radiation-hardened mixed-signal motor controller that helps in reducing size, weight, and power (SWaP) on satellites and other space systems. The LX7720 controller acts as a unique solution for satellite manufacturers sensitive to board area and weight reduction by consolidating essential functions for the motor control and position sensing circuitry required for robotics, multi-axis pointing mechanisms, and precise motion control of optical elements.
In a single chip, the LX7720 controller combines more than 20 commonly used functions such as four half-bridge N-channel Metal Oxide Semiconductor Field Effect Transistor (MOSFET) drivers, four floating differential current sensors, a pulse modulated resolver transformer driver, three differential resolver sense inputs, six bi-level logic inputs, power drivers via external Field Effect Transistors (FETs), loop control electronics for voltage or current control, position read-back (resolver, potentiometer, limit switches, etc.), fault detection and more.
As the LX7720 reduces the number of components in the system, developers could test and inspect fewer parts. It also has minimum physical points of potential failure because of less number of connections and joints. The LX7720 is an ideal solution for spacecraft applications involving motor driver servo control, linear actuator servo control, and for driving stepper, brushless direct current (BLDC), and permanent-magnet synchronous (PMSM) motors.
Features of LX7720 Radiation-Hardened Mixed-Signal Motor Controller
125V Minimum breakdown voltage even if one diode in any string happens to fail (redundant)

700mA Current Capability per Diode

Low Leakage Current

50 krad to Enhanced-Low-Dose-Rate-Sensitivity (ELDRS) exposure

ESD Protected

Rad-tolerant to a Minimum 100krad (Si) TID and SEL Immunity to a Minimum of 87MeV cm2/mg
Note: More technical information can be found in the LX7710 Datasheet linked at the bottom of this page and on the LX7720 controller product page.