RAA78815x Family: 5V Differential RS-485/422 Transceivers with Enhanced ESD Protection and High EFT Immunity for Industrial and Automation Applications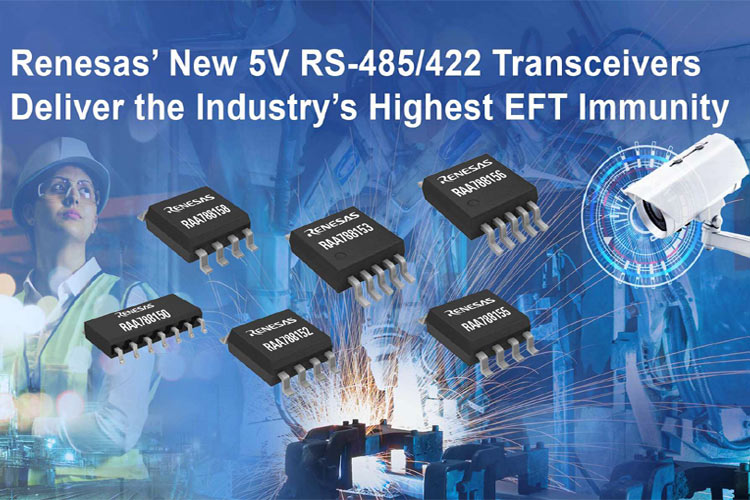 Renesas Electronics Corporation has introduced the RAA78815x Family of 5V differential RS-485/422 transceivers with high output drive and additional immunity for EFT. These six new full and half-duplex ruggedized devices with ESD protection up to ±16,000V are the ideal solution for noise-sensitive industrial communication networks and meet both the RS-485 and RS-422 communication standards. These transceivers are suited for a variety of industrial networks, process control networks, building automation, long-haul network, and security camera network applications.
These new high-speed transceivers feature bus leakage currents of maximum 125 μA thereby, constituting a true 1/8-unit load and support data rates of 115kbps, 1Mbps, and 20Mbps with a performance that is characterized from -40°C to +85°C. With EFT immunity of ±5000V, the RAA78815x family delivers exceptional differential output voltages, featuring 3.1V into the RS-485-required 54Ω load. 
Features
High VOD: 3.1V (Typ) into RD = 54Ω

±5kV EFT immunity of bus I/O pins

±16.5kV ESD protection on bus I/O pins

Supported data rates: 115kbps, 1Mbps, 20Mbps

Full fail-safe outputs for open or shorted inputs

Hot plug capability

1/8 Unit Load

Allows for up to 512 transceivers on the bus

Low supply current (driver disabled): 550µA

Ultra-low shutdown current: 70nA
Applications
Industrial networks in factory automation

Building automation: lighting, elevators, HVAC

Industrial process control networks

Security camera networks

Networks with star topology

Long-haul networks in coal mines and oil rigs

High node-count networks

Automated utility e-meter reading systems
Availability
The RAA78815x transceivers are now available in MSOP and SOIC packages with pin counts ranging from 8 to 14 and an evaluation board for the new transceiver family is also available.