R5613 Series: 1-Cell Protection IC with Reset and Forced Standby Function for Li-Ion and Li-Polymer Batteries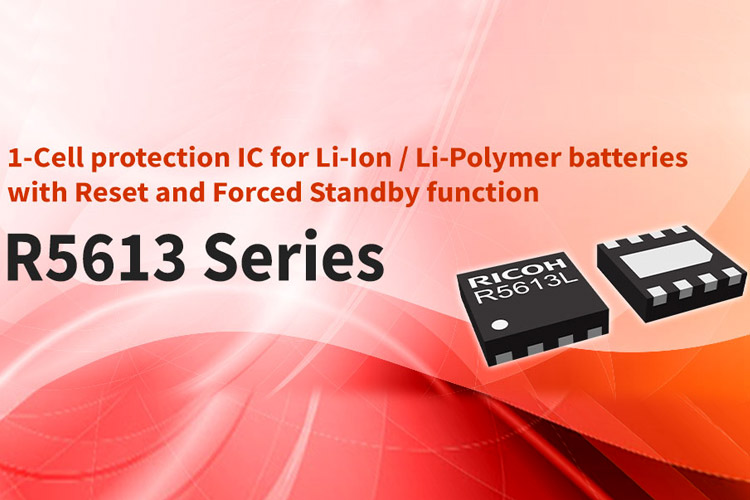 Ricoh Electronic Devices has introduced a primary battery protection IC R5613 Series for rechargeable 1-cell Lithium-Ion and Lithium Polymer batteries. The new R5613 series features standard functions like over-charge and over-discharge voltage, discharge overcurrent, and charge overcurrent, and short circuit protection. This Series is designed to enforce strict usage limits keeping the battery cell in optimal condition and preventing critical overload conditions and features the RST pin function which can switch for an external MOSFET to either a RESET or a forced-standby state. The Target applications of this series include Li-Ion batteries or battery packs for portable devices such as smartphones, smartwatches, fitness trackers, or other electronic gadgets.
The R5613 Series features a reset pin that enables controlling the IC externally and has a much lower current consumption (Typ. 2.0 - 2.5 µA) compared to predecessor products which are especially important for those applications with a small battery capacity. This IC automatically enters the standby mode once the cell voltage drops below a certain threshold, some internal circuits will shut down, reducing current consumption and minimizing further discharge. Moreover, the external current sense resistor value can be in the range of 1.5 mΩ which results in a lower heat dissipation at high currents.
Optional functions are available per product version, such as the 0V battery charging, which offers the option to allow/disallow the battery to recharge from a deep discharged state. Another option is to select between auto-release and latched release from overvoltage, undervoltage, and discharge overcurrent status.
Features
Detector Selectable Range and Accuracy

RST Pin Function type selectable: RESET / Forced-standby type

0 V Battery Charging: Permission / Inhibition 0 V Charge Inhibition Voltage: 1.000 / 1.200 / 1.500 / 2.200 / 2.350 V

Overcharge / Overdischarge Release Voltage Type selectable: Auto Release / Latch

Discharge Overcurrent Release Voltage Type selectable: Auto Release1 (V- = VDD×0.8 V) / Auto Release2 (V- = 0.1 V) / Latch

Discharge Overcurrent Detection having two-level voltage detection (VDET31/VDET32) selectable: Enable / Disable
Applications
Smart Phone, Tablet PC

Game, Hearing Aid
Availability
The R5613 Series IC is now available in an 8 pins DFN1616-8B package, measuring L1.6 x W1.6 x H0.4 mm. Samples and evaluation boards are also available from authorized local distribution channels and online partners.