PCMFxUSB3BA - Common Mode EMI Filter with ESD Protection for Super Speed USB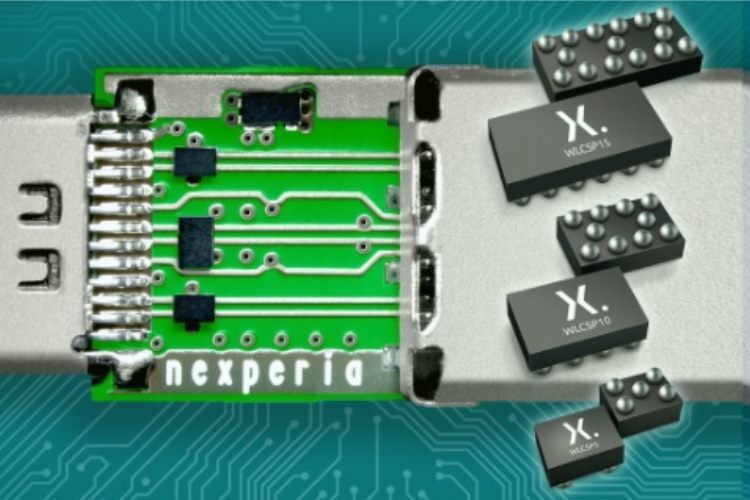 Nexperia has announced a new Common-mode EMI Filter for differential channels with integrated bidirectional ESD protection. This new EMI filter, claimed to be the fastest in the market features a wide differential pass band of up to 10 GHz 3dB frequency and a very high surge robustness of up to 7.5A 8/20 us with low clamping voltage.  It is designed to suppress common mode and single-ended noise while minimizing the impact on the signal integrity of extremely fast data lines. These IC's are intended to be used in a smartphone, cellular, and cordless phone to reduce noise and to protect them from ESD (Electrostatic disturbances).
Features of PCMFxUSB3BA:
The differential passband of up to 10GHz 3dB frequency

Surge robustness of up to 7.5 A 8/20 µs

ESD protection up to ±15 kV

Designed to suppress common mode and single-ended noise

1,2- and 3-line pair protection and filtering.

10Gbps communications line protection 

Filter's System-level robustness exceeds the IEC 6100-4-2 level 4
Note: - For more technical details use the PCMFxUSB3BA/C datasheet that can be found in the bottom of this page.
The new device provides effective 1, 2, and 3 line pair protection (Tx +/-, Rx +/-, D +/-) and filtering. Proven for 10Gbps communication line protection, suiting them for use with sensitive SoCs. It also minimizes the reflections, when compared to a discrete design. These devices have low clamping and high robustness. It helps to optimize the choice between differential pass-band, and common-mode rejection at signal fundamentals and higher harmonics.
The new PCMF filters are available in very low-inductance, space-saving WLCSP packages. For more details on the product visit the respective product page on the official website.