PCMFxHDMI2BA - Common Mode EMI Filter with Integrated ESD Protection for HDMI 2.1 and DisplayPorts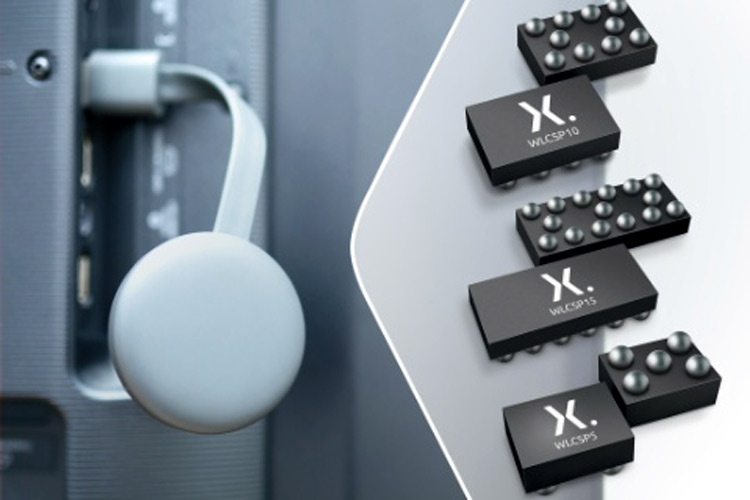 Nexperia has introduced the new PCMFxHDMI2BA-C, a combined, highly efficient, common mode filter and ESD protection device with the widest 10GHz differential bandwidth. The new device is suitable for the latest HDMI 2.1 standards up to 12G FRL as it provides excellent common-mode attenuation at HDMI fundamentals (-19.4 dB @ 3 GHz and -16 dB @ 6 GH).
With a clamping voltage of 7.4V at 16A transmission line pulse (5V at 8V) and a TDR impedance dip of < 10 Ohms for 200 ps rise time, the PCMFxHDMI2BA-C provides a better ESD performance. Apart from the HDMI 2.1, the new device can also suit other high-speed serial interfaces including HDMI 2.0, HDMI 1.4, MIPI, DisplayPort.
The PCMFxHDMI2BA-C can protect and filter one, two, or three differential line pairs, while footprint-compatible ESD protection devices without a filter are available as well.
Features of PCMFxHDMI2BA-C
Protection up to 6 lines (Tx +/-, Rx +/-, D +/-)

Wide differential passband (up to 10 GHz 3dB frequency)

Up to -32 dB CM rejection at 2.5 GHz and up to -21 dB at 5 GHz (USB3 fundamentals)

Up to -31 dB CM rejection at 3 GHz and -16 dB at 6 GHz HDMI fundamental

Suitable for HDMI2.1 @ 12 GHz FRL

Low-inductance and space-saving WLCSP packages
Note: More technical information can be found in the PCMFxHDMI2BA-C datasheet linked at the bottom of this page and on the PCMFxHDMI2BA-C product page.