PAM8907 Piezoelectric Sounder Driver with Boost Converter for Security Devices and Wireless Trackers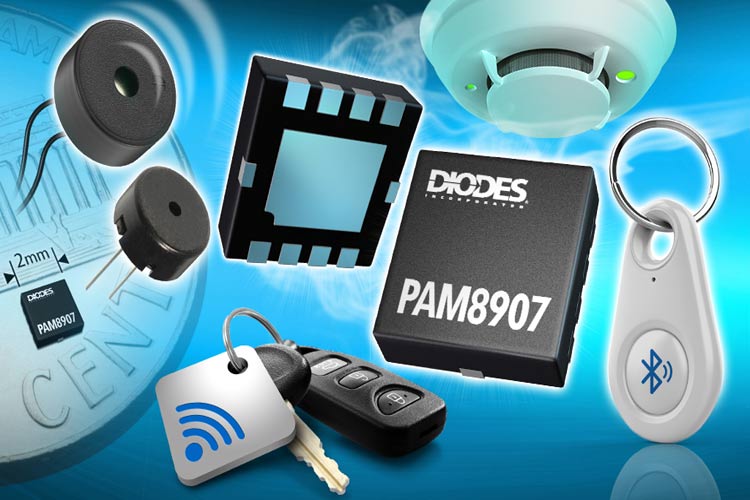 Diodes Incorporated has introduced the PAM8907 piezoelectric sounder driver with a built-in synchronous boost converter, which extends SPL in battery-powered systems and outperforms other similar sounder drivers. This Device maximizes the SPL delivery from a ceramic/piezo sounder and is optimized for use in wireless trackers, industrial alarm systems, medical equipment, and domestic appliances. Moreover, the wide 1.8V to 5.5V input voltage range supported by the PAM8907 sounder driver enables it to address a broad variety of potential applications.
The PAM8907 Sounder Driver operates across a -40°C to +125°C ambient temperature range and features low current consumption, with less than 1μA in shutdown mode. It has built-in automatic shutdown and wake-up functions for longer operating lifetime requirements. The integrated boost converter and unique piezo sounder driver technology of this Device provide small inrush current, low EMI, and yet a highly efficient system performance. Moreover, its integrated boost converter requires only a 1.0µH external inductor which helps reduce the bill-of-materials costs and board space.
Features
Supply Voltage Range from 1.8V to 5.5V

Intergraded Boost Converter VOUT = 11V or 15.6V

Drive Piezo Sounder with up to 31VPP

High-speed Driver Designed with Very Short Turn-On/Turn-Off

No Voltage Cross Output at Shutdown Mode

High Impendence Output at Shutdown Mode

Low Current Consumption, with Shutdown Current < 1μA

Automatic Shutdown and Wake-Up Control

Available in Space-Saving U-QFN2020-10 package
Applications
Bluetooth or Wireless Location Tracker

Air Humidifier or Ultrasonic Related Piezo Driver Application

Security Devices, Home Appliances

Haptic Feedback
Availability and Pricing
The PAM8907 piezoelectric sounder driver is available in a compact 10-pin U-QFN2020 package delivering a minimal footprint and has a unit cost of $0.43 in 3000 piece quantities.