Omron Electronic Components Expands G7EB Relay Portfolio for Enhanced Control and Instrumentation Applications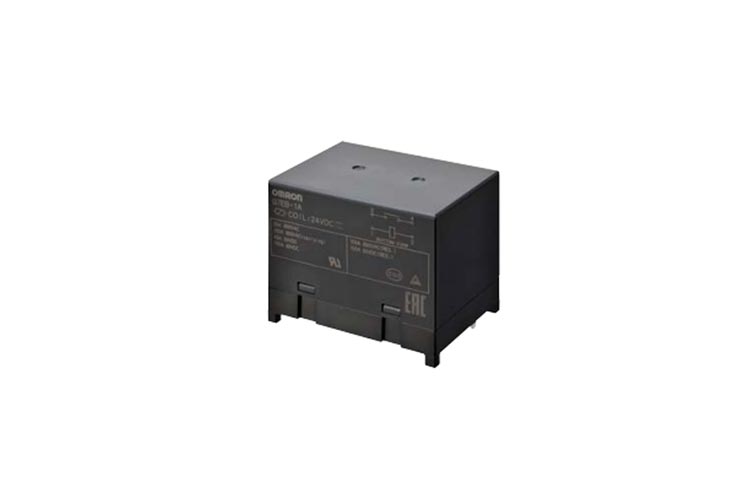 Omron Electronic Components has expanded its G7EB high-power relay portfolio with the new G7EB-1A-E, a 120A carry-type relay. This expansion caters to the needs of control and instrumentation applications, including PV inverters, electric vehicle charging, and uninterruptible power supplies. The G7EB-1A-E offers heat generation suppression, reducing contact resistance to enhance performance and reliability, making it suitable for demanding applications.
The G7EB-1A-E elevates the rated carry current from 100A to 120A and enables 30,000 operations with 40A make/break and 120A carry currents, showcasing durability and long-term usability. Scaling 400V three-phase UPS units from 60 to 80kVA requires a corresponding increase in relay capacity from 100A to 120A, ensuring efficient power management.
In the realm of electric vehicle charging, AC input applications play a pivotal role, and the G7EB-1A-E relays are suitable for such scenarios. Particularly, the 120A model is well-suited for Mode3 EV chargers operating with a single phase at 19.2kW for inverter switching. Moreover, these relays meet the 20kW DC charger requirements of DC-output EV chargers using Mode4 and V2H AC input inverter switching, underscoring their versatility and adaptability to modern charging technologies.
Features
Capable of 480 VAC/100 A high-capacity switching
New high-capacity series capable of 120 A electrification
60 VDC/100 A for normal/reverse direction switching
Ambient temperature 85°C
High impulse withstand voltage, 10 kV
Contact gap ≥3.6 mm (Applied to VDE0126)
Low initial contact resistance ≤5 mΩ
Applications
PV Inverters
Electric Vehicle Charging Systems
Uninterruptible Power Supplies (UPS)
Data Centres
High-Power Control and Instrumentation
Availability
The G7EB-1A-E relays are now available.