nRF5340 - Dual Arm Cortex-M33 Processor with Bluetooth 5.1, Bluetooth Mesh, NFC, Thread and Zigbee for Low Power IoT Applications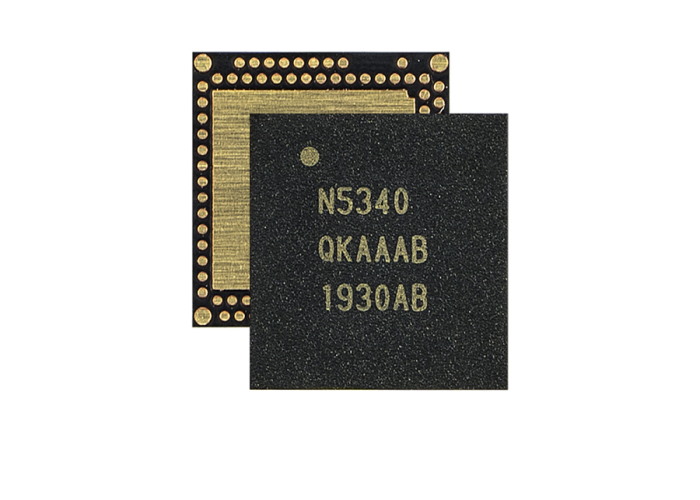 Nordic Semiconductor has announced nRF5340, a Dual Arm Cortex-M33 Processor, and a high-end multiprotocol SoC with a fully programmable, ultra low power network processor. It is designed to support major RF protocols along with Bluetooth 5.1/Bluetooth Low Energy(BLE), Bluetooth mesh, Thread, and Zigbee. The processor is targeted to be used in industrial automation, advanced wearables, and other complex IoT applications
It contains 512 KB of RAM with 1MB Flash, ultra low power network processor, which runs at 64MHz with dedicated 256 KB Flash, and 64 KB RAM. The application processor has 8KB 2-way associative cache which is DSP and floating-point capable and offers voltage and frequency scaling options. It also incorporates a power-optimized multiprotocol 2.4 GHz radio with a TX current of 3.2mA, RX current of 2.6 mA, and sleep current as low as 1.1uA.
 Features of nRF5340 SoC:
Arm Cortex-M33 High-performance application processor

1.7-5.5 V supply voltage range

1MB Flash and 512 KB RAM

Fully-Programmable Network Processor

Ultra-Low-Power 2.4 GHz multiprotocol radio

Bluetooth 5.1 Direction Finding capable

Bluetooth 5 Long Range

Bluetooth mesh, Thread, and Zigbee

NFC

105C extended operating temperature
Note: For more technical details on the nRF5340, check the product brief which will be available at the bottom of the page.
Nordic has also launched an nRF5340 software development kit called the nRF connect SDK which offers a complete solution that integrates the Zephyr RTOS, a Bluetooth LE protocol stack, application examples, and hardware drivers. It has also launched the nRF5340 PDK, which makes all of the nRF5340's features, and GPIOs available to the developer, and comes with an on-board SEGGER j-Link debugger for programming and debugging the SoC. The nRF5340 PDK is available now through Nordic's distribution network. nRF5340 SoC engineering samples will be available soon in a 7x7 mm aQFN package with 48 GPIOs. For more details on the product visit the product page on the official website.