Nova: Miniature Wide-Angle Near-Range Lidar Sensor for Object Detection in Automotive Applications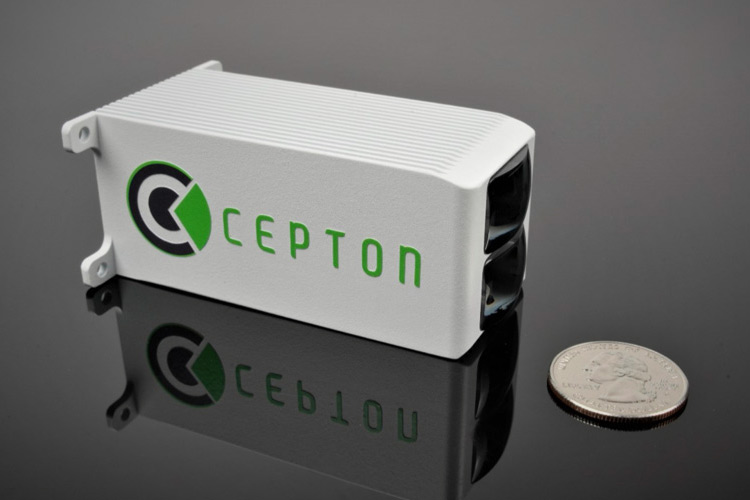 Cepton Technologies has introduced a miniature wide-angle near-range lidar sensor, Nova, for addressing the major gaps in proximity detection of objects with current sensor technologies. With the best-in-class, high-resolution 3D imaging with a high field of view (FOV) of 90-120° (H) and 60-90° (V), the sensor combines compactness, FOV coverage, and affordability in one package.
The patented and proven Micro Motion Technology-based non-rotational, mirror-less, and frictionless Nova lidar sensor can be hidden all around a vehicle to provide a complete 360° view of its immediate surroundings. The ultra-small (3.5 x3.5 x 7.5 cm) sensor can be easily embedded and demonstrates the scalability of MMT to the smallest form factors. Nova has an angular resolution of up to 0.3° with a maximum range of up to 30 m and is therefore ideal for automotive Advanced Driver Assistance Systems (ADAS) and autonomous vehicles (AV) applications such as blind-spot detection, small object detection, automated park assist and free space estimation around the vehicle.
Nova can be used in the detection of objects in proximity, such as small children, on-road objects, road edges, stationary objects, and more. Nova showcases automotive-grade reliability, low power (<3.5 W), and high performance, along with an elegant, minimalistic design that requires only a small space in the vehicle body. Nova is available at <$100 price point for high automotive volumes.
Features of Nova Near-Range Lidar Sensor
Wide field of view (FOV) of 90-120° (H) and 60-90° (V)

Ultra small size : 3.5 cm (W) x 3.5 cm (H) x 7.5 cm (D)

Up to 30 m at 10% and 0.3° angular resolution

Automotive-grade reliability, ISO-26262 ASIL-B

Frictionless, mirrorless, non-rotational MMT-based modular design
Note: More technical information can be found on the product page of Nova Near-Range Lidar Sensor.