Next-Generation Digital Flow Sensors for Respiratory and High-Volume Applications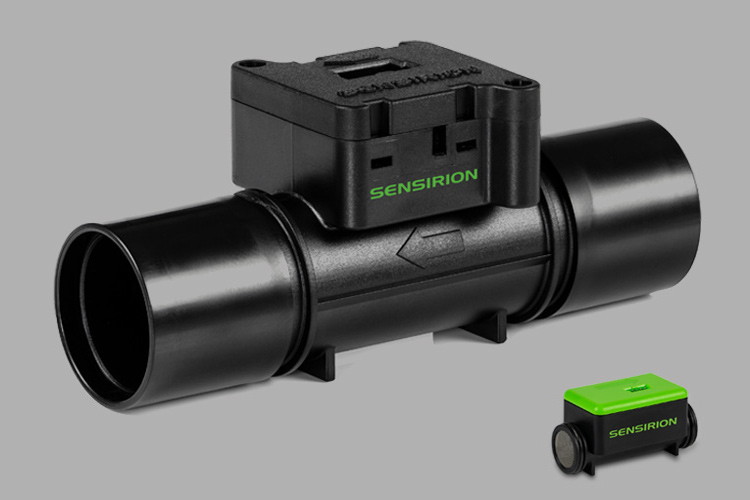 Sensirion has expanded its SFM31xx series of compact sensors with three new next-generation sensors, which are suitable for inspiratory applications at ambient pressure. The new SFM3003 Sensor has an extended flow range between -150 and 300slm, low-pressure drop, ultra-fast response time, and an optimal signal-to-noise ratio. The SFM3013 Sensor is a variant of the SFM3003 and is resistant to overpressure (up to 1 bar) and calibrated for heliox. The SFM3119 adds a digital sensor to the SFM31xx series and is highly accurate and fast at measuring flows of air, oxygen, and mixtures thereof between -10 and 240slm. Moreover, these temperature-compensated sensors can accurately measure flow rates in both directions.
The SFM3003 can measure the flow of air, oxygen, and mixtures thereof at rates between -30 and 300slm with accuracy, reliability, and long-term stability. The SFM3013 is a variant of the SFM3003 and offers additional resistance against overpressure (up to 1 bar gauge pressure). Both sensors are the ideal solution for high-volume applications that prioritize cost-efficiency.
The SFM3119 is a compact digital flow meter with a digital I2C output and low-pressure drop. This Sensor can be easily integrated into existing devices and is particularly suitable for inspiratory flow sensing in applications such as ventilation and anesthesia, and for mixing oxygen and air to a very precise degree.