New Synchronous Step-down DC/DC Converter Module with MODE pin and Inductor for Wearables and Industrial Equipment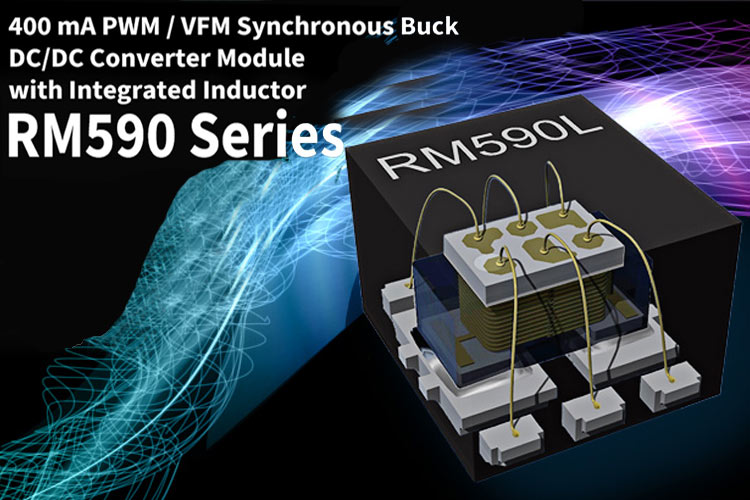 RICOH has introduced a new RM590 Buck DC/DC Converter Module in a 2.2mm x 2.0mm x 1.5mm sized QFN2220-8 package with a built-in inductor that delivers up to 400mA of output current. This new series can be configured for either PWM/VFM automatic shift operation or forced PWM operation by controlling of MODE pin and is suitable for applications with a high degree of miniaturization such as wearables and portable gadgets along with other consumer, industrial, and IoT devices. Moreover, this device provides convenience for the designer and guarantees high efficiency through synchronous rectification.
The RM590 series features a high operating frequency of 6MHz, resulting in lower values of the reactive components and the automatic PWM/VFM switching ensures a stable efficiency output over a wide output current range. This series offers an Input Voltage Range of 2.3V to 5.5V and Output Voltage from 0.6V to 3.3V in 0.1V increments.
Features
Having an inductor built-in, it is possible to simplify the board design and reduce the mounting area.

PWM/VFM automatic shift operation provides high efficiency at light loads.

Having an inductor built-in, the number of parts can be reduced, and the man-hours for managing purchased parts can be reduced.
Applications
Devices need to be miniaturized such as wearables, hearables

Phones, domestic LAN systems

Communication modules, and applications for Industrial equipment

Instrumentation equipment such as flow meters and pressure gauges
Availability
The RM590 series is now available in a QFN2220-8 package.