New Rotary Potentiometer Model Series with Additional Design Options for Medical, Industrial and Consumer Applications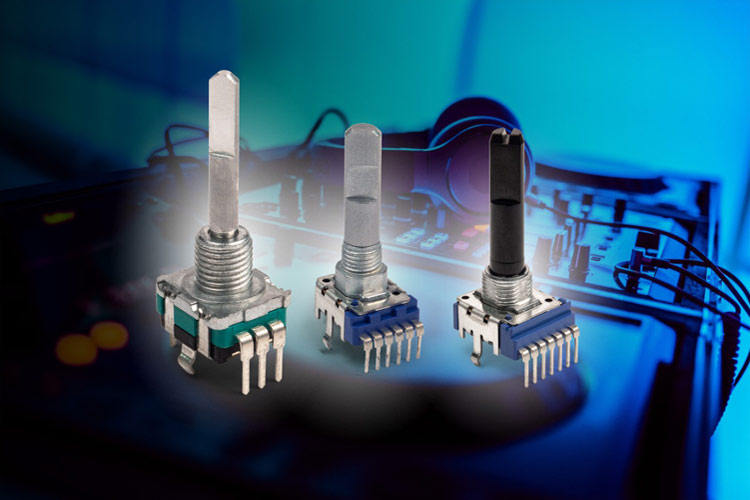 Bourns has introduced the model PRS11R rotary metal shaft potentiometer series, model PRS12R rotary metal shaft potentiometer series, and model PRS14R rotary plastic shaft potentiometer series three new rotary potentiometer model that provides enhanced features and multiple new design options. The variety of options released today offers designers additional switch, shaft configuration, vertical and horizontal PC pin orientation, and detent options depending on the model.
With an IP 40 seal rating, all three model series feature a small form factor with through-hole type mounting. The Model PRS11R has a 15000 rotational cycle rating, a -20°C to +70°C operating temperature range, and momentary switch and flatted shaft options. With flatted, slotted, and knurled shaft and detent options, the Model PRS12R series features offer a 10000 rotational cycle rating. Like Model PRS11R, the Model PRS14R series also has a 15,000 rotational cycle rating, but it has an operating temperature range of -10°C to +70°C.
The versatility of the rotary potentiometers makes them an ideal solution for a wide variety of User Interface Controls in professional audio and lighting applications, low/medium risk medical and laboratory equipment, and industrial automation controls.
Features of PDA24 Potentiometer
Standard or high torque option

Long-life carbon element

Plain or knurled shaft options

Brass bushing

Metal shaft

Audio or Linear taper options

Variety of resistance values
Note: More technical information can be found in the PDA24 Datasheet linked at the bottom of this page and on the product page of Commercial Panel Controls.