New RA4E1 MCUs Based on Arm Cortex-M33 Core offer Optimal Value with Low Power Performance and Feature Integration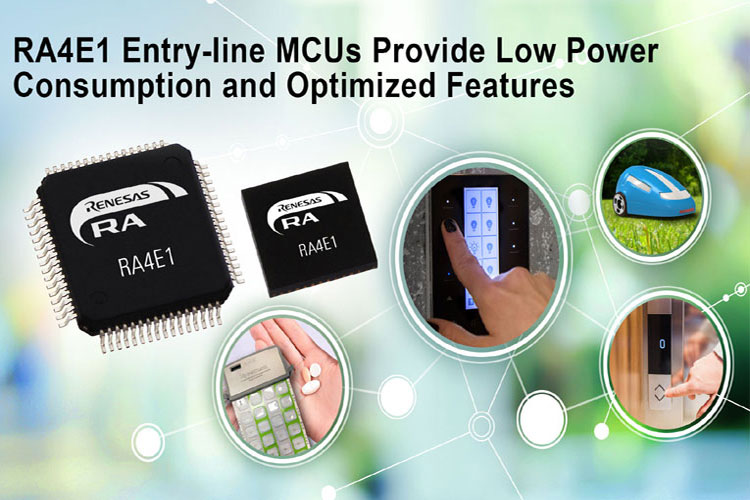 Renesas Electronics has announced the expansion of its 32-bit RA Family of microcontrollers (MCUs) with a new Group based on the latest Arm Cortex-M33 core. The new 100-MHz RA4E1 Group has good power consumption balanced with high performance and optimized feature integration. The RA4E1 MCUs are the first Entry-Line Group in the 100-MHz RA4 Series and the group includes four different parts, spanning from 48-pin to 64-pin packages, and from 256kB to 512kB of flash memory along with 128kB of SRAM. These devices are ideal for cost-sensitive applications and other systems requiring an optimal combination of performance and low power consumption.
The RA4E1 devices offer the lowest active power consumption in their class, using only 60µA / MHz while executing from Flash at 100MHz and deliver an optimized combination of innovative peripherals, connectivity options, and system cost saving features.
Features
100MHz Arm Cortex-M33 with TrustZone

256kB - 512kB Flash memory and 128kB SRAM

8kB Data Flash to store data as in EEPROM

1kB Stand-by SRAM

Scalable from 48-pin to 64-pin packages

USB 2.0 Full Speed

CAN 2.0B

Quad SPI

SCI (UART, Simple SPI, Simple I2C)

SPI/I2C multi-master interface
Applications
General purpose

Home Appliances (Smart Coffee Machine)

Smart Home and Building Automation (Voice command, Smart IoT Air Filter)

Industrial sensor hub with for flow, humidity, temperature, etc.

Home entertainment (housekeeping MCU)
Availability
The new RA4E1 MCUs are now available and to help engineers get started with the RA4E1 MCUs, Renesas is offering the FPB-RA4E1 fast prototype board with an on-chip debugger priced in the 20 USD range.