New Low Clamping Bidirectional ESD Protection Devices with TrEOS Technology for USB4 Standard Interfaces and Communication Systems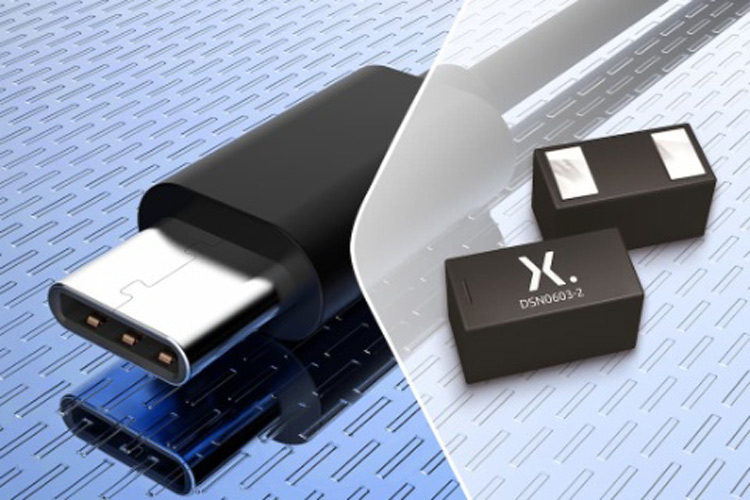 Nexperia has announced two new extremely low clamping and capacitance bidirectional Electrostatic Discharge (ESD) protection diodes, housed in the ultra-low inductance DSN0603-2 (SOD962-2) leadless package, with a standard 0.6 mm x 0.3 mm footprint and 0.3 mm profile. Based on Nexperia's TrEOS technology with active silicon-controlled rectification, these devices ensure optimal signal integrity for USB4 (up to 2 x 20 Gbps) data lines on laptops and peripherals, smartphones, and other portable electronic equipment. Moreover, the PESD5V0R1BxSF devices features voltage rating of 2.8V which makes them backwards compatible with all standards that can connect over USB Type-C.
The new PESD5V0R1BDSF diode offers extremely low insertion loss figures of ‑0.28dB at 10GHz and is optimized for low clamping along with low return loss figures of ‑19dB at 10GHz. On the other hand, the PESD5V0R1BCSF diode is optimized for RF performance with insertion loss data of -0.25dB and return loss data of -19.4dB at 10GHz each. 
Features
Bidirectional ESD protection of one line

Extremely low diode capacitance

Extremely low insertion loss

Extremely low return loss

20 Gbps capable

Ultra-small SMD package

Extremely low clamping voltage to protect sensitive transceivers
Applications
Cellular handsets and accessories

Portable electronics

Communication systems

Computers and peripherals

USB4, USB3.2, Thunderbolt4 and HDMI2.1 data lines