New Isolated Flyback DC-DC Converter for xEV Applications, Reducing Mounting Area and Efforts for Noise Design Countermeasure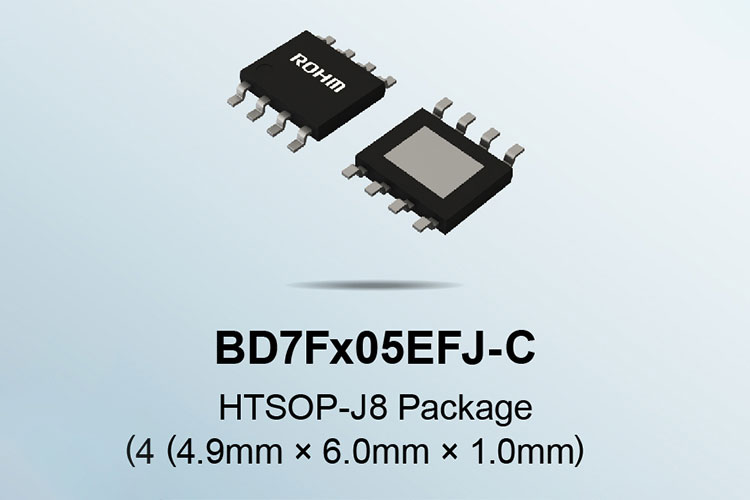 ROHM has developed an isolated flyback DC-DC converter, BD7Fx05EFJ-C, (BD7F105EFJ-C, BD7F205EFJ-C) optimized for gate drive power supplies in electric vehicles (xEVs) such as electric compressors and PTC heaters. The product aims to address issues such as larger mounting area and power consumption in conventional isolated circuit configurations, and also require considerable noise countermeasures for switching frequencies that vary with output current.
The BD7Fx05EFJ-C utilizes a circuit configuration that achieves stable switching frequency characteristics without requiring a photocoupler, decreasing application size together with workload for noise design countermeasure.
ROHM's superior analog design technology allows the BD7Fx05EFJ-C to eliminate the need for photocouplers, transformer auxiliary windings, and peripheral components conventionally necessary to detect secondary-side voltage and current.
The product also achieves greater miniaturization by reducing the number of components, resulting in a 30% reduction in the number of components and photocoupler used for current detection compared to general isolated flyback power supply circuits.
The BD7Fx05EFJ-C also features an adaptive ON-time control function that ensures a stable frequency of around 350kHz regardless of output power.
The product complies with the CISPR25 automotive EMC standard and also has a spread spectrum function that minimizes radiated noise.
In addition to reducing the number of components and person-hours required for noise countermeasures, the BD7Fx05EFJ-C improves application reliability by incorporating multiple protection circuits along with a function that stabilizes the output voltage. ROHM plans to continue to develop products that contribute to greater miniaturization and lower noise by leveraging its strength in analog technology, to help achieve a sustainable society.